AfriTin Mining: Quarterly Production Update
Quarterly Production Update
AfriTin Mining Limited (AIM: ATM), an African technology metals mining company with a portfolio of mining and exploration assets in Namibia, is pleased to provide the unaudited quarterly production update for the Uis Mine ("Uis") for the first quarter ("Q1") of the 2023 Financial Year ("FY2023") ending 31 May 2022.
Highlights:
Production of tin increased by 13% quarter-on-quarter ("QoQ") to 152 tonnes;
Record tin recovery of 67% achieved during the quarter under review;
All-In Sustaining Costs ("AISC")* improves 16% QoQ on the back of increased production and improved operational efficiencies; and
Phase 1 Expansion Project on track for completion in Q3 of the calendar year.
* Refers to the All-in Sustaining Costs for the operating entity Uis Tin Mining Company (Pty) Ltd ("UTMC"), but excludes overheads at a Group level.
Anthony Viljoen (CEO) commented:
"Our tin-producing operation at the Uis Mine continues to deliver record-breaking performance. I am also pleased to note that the initiatives aimed at improving our unit costs are yielding positive results. These results are a testament to our team's capability. The Phase 1 Expansion Project is nearing completion and will further strengthen our tin revenue base.
The strong performance of the tin operation provides a solid platform for developing potential lithium and tantalum by-product revenue streams. Our position as an operating, cash-generating mining company allows us to fast-track development of near-term opportunities, as well as expanding our production and product portfolio."
In the interview below, Anthony Viljoen provides an overview of the business and gives a snapshot of the tin market
AfriTin's Investor Videos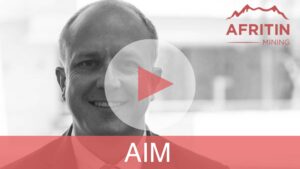 Click here to view AfriTin's Investor Videos