AfriTin: Uis Exploration Drilling Down Dip Extensions
Uis Exploration Drilling Down Dip Extensions
AfriTin Mining Limited (AIM: ATM), an African tech-metals mining company with a portfolio of production, development, and exploration assets in Namibia in tin, lithium and tantalum, is pleased to provide a further update on its down dip extensional drilling programme designed to elucidate mineralisation of the V1/V2 pegmatite at depth.
Highlights
Drill results for the final five drill holes that intersected the V1/V2 pegmatite demonstrate continuity of mineralisation at depth, with the highest combined metal content intersection from drill hole V1V2022, containing 0.17% Sn, 61ppm Ta and 1.33% Li2O, over a 51m intersection at a depth of 201m to 252m;
Significant pegmatite intersections include:

101.05m @ 0.164% Sn, 78ppm Ta and 0.52% Li2O in drill hole V1V2021
164.09m @ 0.169% Sn, 57ppm Ta and 1.04% Li2O in drill hole V1V2022
169.02m @ 0.171% Sn, 62ppm Ta and 0.81% Li2O in drill hole V1V2025

Drill hole intersections demonstrate the continuity of mineralization, a potential upgrade to resources at depth and support the lithium and tantalum by-product initiatives currently underway.
Anthony Viljoen (CEO) Commented:
"We are pleased to announce these drill results showing the extension of the V1/V2 pegmatite at depth, the consistent tin grades and the substantial lithium grades, which serve to further validate the planned expansions of the Phase 1 pilot processing plant. We look forward to the initiation of another drilling programme aimed at aligning the lithium and tantalum resource confidence intervals with the current confidence interval for tin within the current Mineral Resource Estimate, which we expect to commence in quarter 4, 2021.
These high-grade drill hole intersections substantiate our belief that AfriTin Mining is poised to become a leading supplier of technology metals targeting a more diversified portfolio of production in the future."
In addition to the drilling programme that validated the historical drilling information from the Uis Tin Mine and resulted in the declaration of the maiden JORC (2012) compliant Mineral Resource Estimate (MRE), the team drilled several holes to demonstrate continuity of mineralisation within the pegmatite at depth by drilling to the west of known outcrop. This is the final stage of the drilling programme announced on 16 September 2019, which had been postponed due to the COVID-19 pandemic. The results are set out here. The drill holes were geologically logged and sampled at one-meter intervals wherever possible. Sample analysis was undertaken by UIS Analytical Services, a certified independent laboratory, with a portion being reanalysed at an independent umpire laboratory. All samples passed internal and external analysis QA/QC, providing further confidence in these drill results. The major and minor elements were analysed by ICP-OES methods and the trace elements by ICP-MS methods.
In the interview below, Anthony Viljoen provides an overview of the business and gives a snapshot of the tin market
AfriTin's Investor Videos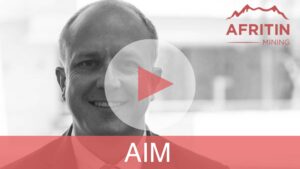 Click here to view AfriTin's Investor Videos