HeiQ: Collaboration Agreement with The LYCRA Company
HeiQ and The LYCRA Company take textile performance to unprecedented levels
HeiQ Plc (LSE: HEIQ), an established global brand in materials and textile innovation that operates in high-growth markets, announces that it has signed a collaboration agreement to take textile performance to unprecedented levels with The LYCRA Company, a billion dollar global company known for its innovative and sustainable solutions for the textile, apparel, and personal care industries.
The collaboration will lead to the launch of many new innovative, quality-enhancing and sustainable textile technologies addressing needs for stretch, antimicrobial, freshness, warming and cooling. HeiQ's finished-based innovations and The LYCRA Company's branded fibers and fabrics will be marketed jointly by both companies to each of the companies' international customer-bases. This will take HeiQ's innovative and sustainable innovations to new audiences with a high-profile partner.
The first innovation will be launched in Q3 2021, combining HeiQ's freshness and antiviral benefits with the quality and comfort of The LYCRA Company's stretch fabrics, bringing a new dimension of comfort and confidence to consumers.

This will initially be marketed to yarn processors, fabric mills, garment producers, brands and retailers in China, with the launch planned at the Intertextile show in Shanghai at the end of August.

The companies will work together to develop additional consumer-branded innovations in the stretch, cooling and warming, freshness and sustainability market spaces to address consumer demand for quality, durable, and sustainable garments.
Carlo Centonze, co-founder and CEO of HeiQ, said:
"This collaboration with one of the world's most recognisable ingredient brand names in fashion is a strong endorsement of the work we do to improve the lives of people through textiles and materials innovations. On listing, we stated that we would achieve growth through increased penetration of our core innovations and by strongly increasing consumer awareness of the HeiQ brand. This landmark agreement is completely in line with this strategy. We are excited to take our brand to loyal customers of The LYCRA Company, whose name is recognised by consumers around the world due to the quality and efficacy of their fibers and fabrics, starting with the largest textile industry in the world, China. Not only does today's agreement demonstrate the continued call for antimicrobial technology despite the vaccine roll-out, it also highlights the ongoing demand for our high-performance textile technologies which helps regulate temperature and provide comfort in an environmentally friendly way."
Steve Stewart, Chief Brand and Innovation Officer at The LYCRA Company, said:
"We are pleased to announce the launch of this collaboration, the culmination of conversations that began two years ago. By combining the strength of both companies, we will continue to drive meaningful innovation within the textile industry, delivering new solutions at a quicker pace to a broader audience."
Julien Born, President & CEO at The LYCRA Company said:
"The collaboration is based on a strong foundation of common values and philosophies shared by our two companies. We look forward to exploring the natural synergies between us and uncovering new solutions for the apparel industry."
Below is an interview with HeiQ's CEO & FD, who provide the highlights from the recent results
HeiQ Investor Videos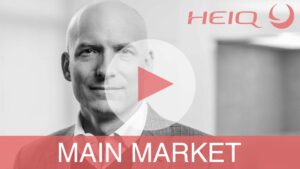 Click here to view HeiQ Investor Relations Videos