HeiQ: Completion of Acquisition
Completion of Acquisition of Life Material Technologies Limited
HeiQ Plc (LSE: HEIQ), an established global brand in materials and textile innovation which operates in high-growth markets, announces that further to the RNS published on 15 June 2021, the acquisition of 100% of the share capital and voting rights of Life Material Technologies Limited ("HeiQ LIFE"), a materials technology company that has developed a strong portfolio of smart ingredients, has now completed (the "Acquisition").
The Acquisition strengthens HeiQ's presence in the bio-based antimicrobial and textile odor control market and further diversifies and innovates its product range and capabilities. HeiQ will initially focus on marketing HeiQ LIFE's bio-based, botanical antimicrobial technologies, which represent a sustainable solution for controlling odor on textiles, to apparel brands. Odor control is the highest in-demand apparel functionality amongst consumers worldwide and provides environmental benefits because odor-free garment requires less washing, leading to longer life and less water consumption.
The Company will issue 1,887,883 new ordinary shares ("Consideration Shares") to the sellers of LIFE, at a price of £1.496201 per share, which is t he intraday volume-weighted average price (the "VWAP") of HeiQ shares on the London Stock Exchange in the last five trading days preceding the closing of the Acquisition.
Applications will be made for the Consideration Shares to be admitted to the standard segment of the Official List, and to trading on the London Stock Exchange's Main Market ("Admission").
It is expected that Admission will become effective, and that dealings in the new Ordinary Shares are expected to commence, at 8.00 a.m. on 14 July 2021.
Following Admission, the total number of Ordinary Shares in issue will be 130,583,536 and the total number of voting rights will therefore be 130,583,536. This figure may be used by shareholders as the denominator for the calculations by which they will determine if they are required to notify their interest in, or a change to their interest in, the share capital of the Company under the FCA's Disclosure Guidance and Transparency Rules.
Below is an interview with HeiQ's CEO & FD, who provide the highlights from the recent results
HeiQ Investor Videos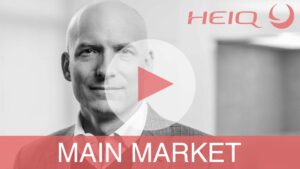 Click here to view HeiQ Investor Relations Videos