AfriTin: Quarterly Production Update
Quarterly Operation Update
AfriTin Mining Limited (AIM: ATM), an African tin mining company with its flagship asset, the Uis Tin Mine ("Uis") in Namibia, is pleased to provide the quarterly production update for Q1 of the 2022 Financial Year ('FY2022'), the three-month period from 1 March 2021 to 31 May 2021).
Highlights:
Tin concentrate production for Q1 of the 2022 Financial Year totalled 183 tonnes, containing 114 tonnes of tin metal, exceeding the production target of 180 tonnes;
Shipping of tin concentrate to Thailand, and off-take pre-payments continue despite global COVID-19 related shipping delays;
Company progressing implementation of the Uis Phase 1 expansion project, to potentially result in a 67% increase in tin concentrate production;
The implementation programme will commence with the appointment of an experienced implementation team, and ordering of long-lead items;
By-product test work on tantalum and lithium oxide is progressing as planned, with the aim of realising additional revenue streams; and
REMINDER: Webcast: Exploring the Company's Namibian assets and upside potential – Monday 14 June 15h00 BST.
Anthony Viljoen, CEO of AfriTin Mining Limited commented:
"AfriTin has seen a successful start to the 2022 Financial Year. We are delighted to release our first quarterly update for the year demonstrating that the Company is achieving its internal monthly production targets at our flagship Uis Tin Mine. These positive production results have coincided with 10-year high tin prices.
We are excited to commence the Phase 1 expansion. In addition, during this phase, we are hoping to unlock the exciting and significant lithium and tantalum by-product potential we have across our extensive resource base.
I look forward to presenting an exploration webcast on our current portfolio of Namibian assets together with our Exploration Manager, Tim Marais and Laurence Robb (non-executive director). We believe that the Damara Belt has huge unexplored potential to become a new technology metallogenic province of global significance."
In the interview below, Anthony Viljoen provides an overview of the business and gives a snapshot of the tin market
AfriTin's Investor Videos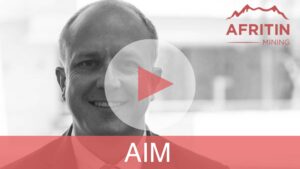 Click here to view AfriTin's Investor Videos