HeiQ: Creates sustainable textile finishing partnership
Creates sustainable textile finishing partnership
HeiQ Plc (LSE:HEIQ), an established global brand in materials and textile innovation which operates in high-growth markets, is pleased to announce a sustainable textile finishing partnership with Alchemie Technology ("Alchemie"), a leader in waterless, digital on-demand, smart dyeing technology, which will enable HeiQ customers to add its high performance technologies to textiles at significantly lower cost and in a much more environmentally friendly way.
Alchemie will commence roll out of its digital multifunction finishing solution, NOVARA, to the global textile market in Q3 2021. Work together so far has shown that using NOVARA for single-sided finishing of HeiQ Viroblock, for example, required 52% less chemistry, 66% water reduction and 50% less energy, whilst achieving a 99.7% reduction in antimicrobial activity after 15 washes at 400centigrade.
Carlo Centonze, Co-founder & CEO of HeiQ Group, said: "We're delighted to partner with Alchemie Technology and their journey to transform the textile industry with solutions that reduce the environmental impact of dyeing and finishing. With such compelling cost benefits, Alchemie's technology delivers both for the textile industry, and the environment."
Dr Simon Kew, Managing Director, Alchemie Technology commented: "Extensive testing using HeiQ's chemistry with our digital finishing technology has achieved exceptional finishing performance with half the chemistry required of traditional finishing methods.
"With the huge demand for high-performance antibacterial, antiviral finishing for face masks, medical apparel, gym wear, home furnishing, mattresses, and textiles for high-risk, high traffic areas such as train, plain seats, and more, our combined technology is critical for increasing protection and reducing environmental impact of these products."
For further information, please contact:
Below is an interview with HeiQ's CEO & FD, who provide the highlights from the recent results
HeiQ Investor Videos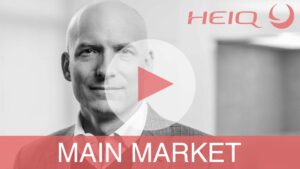 Click here to view HeiQ Investor Relations Videos