HeiQ: Viroblock Partnership with Berger Paint
HeiQ Viroblock Partnership with Berger Paint
HeiQ (LSE:HEIQ), an established global brand in materials and textile innovation which operates in high-growth markets, is pleased to announce that it has signed an agreement with global luxury paint provider Berger Paints India Ltd ("Berger"), among the largest 15 paint companies in the world. Berger will produce an innovative antiviral paint, Silk Breathe Easy, which will be powered by HeiQ Viroblock, proven to destroy over 99.99% of infectious viruses and bacteria.
The agreement will deliver US$600,000 of revenue to HeiQ for the first year, during which Berger will have exclusivity in India, with potential for significant additional future revenues. The exclusivity term also has the potential to be extended by HeiQ.
This partnership is in line with HeiQ's strategy to innovate in and beyond textiles, eventually becoming a global leader in materials innovation. This is the first time that HeiQ Viroblock, which won the prestigious Swiss Technology Award in 2020, will be used in the paints & coatings industry, opening up an exciting new market opportunity for HeiQ, which is dominated by Akzo Nobel, PPG and Sherwin Williams.
Silk Breathe Easy is a luxury interior paint designed to give walls a rich appearance, to significantly reduce pollution and to protect by preventing surface transmission of diseases caused by bacteria and viruses. It is designed to enhance hygiene and reduce the risk of contamination in households, public and semi-public spaces. It can also be used in hygiene-sensitive environments such as surgical theaters and other medical and healthcare facilities. Formulated with 100% acrylic emulsions and vibrant pigments, it has low volatile organic compound ("VOC") and has formaldehyde reduction abilities.
HeiQ co-founder and CEO Carlo Centonze said:
"This contract demonstrates the significant market opportunity for HeiQ Viroblock beyond textiles, and with exclusivity only granted in India, there is potential to roll out the application of our award-winning antiviral technology in paint and coatings to different partners and territories. We are thrilled to have moved into this new US$150 billion material market alongside such a prestigious brand, which has built a strong industry reputation for being a first mover in establishing a number of trendsetting innovations. This builds on the success we have already experienced to date with our innovation, having already 'viroblocked' over a billion textile products since launching it a year ago.
"We are delighted that we can now viroblock homes and offices and make every surface safer to touch. It gives HeiQ satisfaction to know we are playing our part in enhancing the quality of people's lives, not just during the pandemic, but well into the future."
Below is an interview with HeiQ's founders, filmed at its IPO in December 2020
HeiQ Investor Videos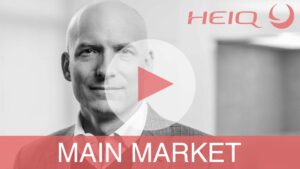 Click here to view HeiQ Investor Relations Videos