JLEN: Acquisition
Acquisition of equity stake in green hydrogen project in Germany
JLEN, the listed environmental infrastructure fund, is pleased to announce its first investment into the green hydrogen sector with the acquisition of a 33% equity stake in Foresight Hydrogen Holdco GmbH ("FHHG").
FHHG holds a 75% stake in HH2E Werk Thierbach GmbH, a Special Purpose Vehicle which owns the development rights to the Thierbach green hydrogen project ("Thierbach"), a large green hydrogen production plant near Borna in Germany, capable of producing around 6,000 tonnes (over 200,000MWh) of green hydrogen per year during the first 100MW phase. Green hydrogen will be produced through electrolysis powered by renewable electricity. The project will also integrate battery storage.
Thierbach is currently under development by HH2E AG ("HH2E"), a developer of hydrogen projects in Germany.
FHHG also owns 7.6% of HH2E and holds the right to majority fund future projects developed by HH2E.
Thierbach will serve green hydrogen customers and off-takers, including leading players in the mobility sector, large-scale energy and industrial consumers such as the chemical industry and commercial air and road transport operators. Further expansion is planned in the future to increase the capacity of the plant to over 1GW with an annual production of over 60,000 tonnes of green hydrogen.
The investment has been made alongside Foresight Energy Infrastructure Partners ("FEIP") and Foresight ITS, with both JLEN and FEIP acquiring their respective 33% interests in FHHG from Foresight ITS. The transaction will see JLEN invest up to €5.7m in FHHG alongside FEIP and Foresight ITS to bring Thierbach to a construction-ready stage. This acquisition represents JLEN's first development-stage hydrogen investment and comes with rights secured to fund the development and build-out of Thierbach and a pipeline of further green hydrogen projects alongside HH2E.
Ed Warner, Chair of JLEN, said: "We are delighted to be making our first investment into green hydrogen. The efforts of the German government and German industry to make Germany one of the leading markets in the emerging hydrogen economy are clear and we believe that this transaction presents JLEN with an excellent opportunity to invest on an ongoing basis as the market matures. We are excited to be partnering with the HH2E team, who have demonstrated their deep understanding of the hydrogen sector and their ability to develop attractive opportunities."
Chris Holmes, Co-Lead Investment Manager of JLEN commented: "The hydrogen sector is growing at pace and presents significant opportunities for JLEN. This investment in HH2E, alongside its investment in a suite of green hydrogen projects in the North West of England, underlines the commitment and skill set of the Investment Manager to this exciting sector."
Andreas Schierenbeck, co-founder and board member of HH2E, said: "Domestic green hydrogen production is crucial to secure a key role for Germany in the future global green energy sector, a sector that is receiving major support from governments in all the world's major economies. German industries will more easily be able to remain competitive if they are not totally dependent on energy imports.
"The technology mix developed by HH2E harnesses the volatility of renewable energy production by combining an alkaline electrolyser with a high-capacity battery, which enables constant production of cost-competitive green hydrogen without a permanent supply of power."
This announcement contains information that is inside information for the purposes of the Market Abuse Regulation (EU) No. 596/2014.
Below is an interview with Foresight Group, the manager behind the Trust who talk us through the highlights from the recent financial results, an outlook including how the Trust sees opportunities despite the tricky environment
[/one_third_last]
JLEN Investor Videos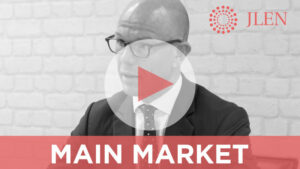 Click here to view JLEN Investor Relations Videos