Altus Strategies: Updated MRE & PEA at Mali Gold Projects
Significant Growth in Gold Resource at Diba & Lakanfla Project, Western Mali
Updated PEA Delivers US$150 Million (After-Tax) Net Present Value
Altus Strategies Plc (AIM: ALS, TSX-V: ALTS, OTCQX: ALTUF) announces the publication of an updated independent Mineral Resource Estimate ("MRE") and Preliminary Economic Assessment ("PEA") for its 100% owned Diba & Lakanfla gold project ("Diba & Lakanfla" or "the Project") located in western Mali.
Highlights:
Updated MRE and PEA published for Diba & Lakanfla in western Mali

Open pit heap leach gold mine with low capital expenditure and strong cashflows
After-tax Net Present Value ("NPV") of US$150 million with payback of 5.7 months
NPV based on 8% discount rate, US$1,700/oz gold ("Au") price and 95% recovery
All-in sustaining costs of US$686/oz and a low strip (waste to ore) ratio of 1.22:1
4.7 year mine life with average annual gold production of 54,380 ounces ("oz")
Diba small scale mining licence hosts a shallow dipping near-surface gold deposit

Substantial 67% increase in MRE in all categories, comprising:

7,800,000 tonnes at 1.24 g/t Au for 312,000 oz in the Indicated category
12,700,000 tonnes at 0.87 g/t Au for 362,000 oz in the Inferred category
Project hosts numerous targets for further drill testing and potential resource growth

Project is strategically located in a world-famous gold belt that hosts several mines
Altus intends to undertake a process to potentially monetise the Project and create a royalty
Steven Poulton, Chief Executive of Altus, commented:
"We are delighted to announce the significant increase in the MRE at the Company's 100% owned Diba & Lakanfla gold project in western Mali. The updated PEA generates an impressive US$150 million after-tax NPV8, for the oxide portion alone of the Project. The PEA envisages a simple low-cost and low-strip ratio open-pit gold mine, using standard heap-leach processing for oxide ores. The MRE also identifies approximately 12 million tonnes of fresh sulphide material which could add additional ounces to an enlarged mine.
"With numerous prospects remaining to be adequately drill tested, the Diba & Lakanfla project is strategically positioned to become a potentially significant gold deposit in western Mali. With the publication of the MRE and PEA, Altus now intends to undertake a process to potentially monetise the Project, including the creation of a long-term royalty on any future gold production. We look forward to updating shareholders in due course."
In the TV clip, CEO Steve Poulton provides an overview Altus and its unique strategy
Altus investor videos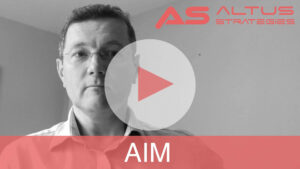 Click here to view LON: ALS videos