Trident Royalties: Portfolio Update: Thacker Pass Lithium Project
Portfolio Update: Thacker Pass Lithium Project
Trident Royalties Plc (AIM:TRR), the diversified mining royalty company, is pleased to note a recent update on the Thacker Pass lithium project ("Thacker Pass" or the "Project"), in Nevada, by the project operator, Lithium Americas Corp. ("LAC")1. Trident holds a 60% interest in a gross revenue royalty over the entirety of the Project.
HIGHLIGHTS
Early works construction remains on track to commence in 2022, with all permits to commence construction currently in place. An appeal of the Federal Record of Decision is ongoing with briefings scheduled to end on 11 August 2022; oral arguments and a final decision are expected to follow shortly thereafter.
The Project Feasibility Study is also expected to be delivered in the second half of 2022, targeting total production capacity of 40,000 tonnes per annum of lithium carbonate (Phase 1) with a second stage expansion targeting total production capacity of 80,000 tonnes per annum (Phase 2).
LAC officially opened the 30,000 square foot Lithium Technical Development Center in Reno, Nevada in an event attended by Nevada Governor, Steve Sisolak.
The facility has been fully commissioned and is operating as planned to replicate the Thacker Pass flowsheet2 from raw ore to final product, and has achieved battery-quality specifications with product samples being produced for potential customers and partners.
Formal application was submitted to the U.S. Department of Energy in April 2022 through the Advanced Technology Vehicles Manufacturing loan programme, which LAC expect to fund the majority of the Thacker Pass capital costs.
Jonathan Evans, President and CEO of LAC, commented to LAC for the purposes of their announcement*:
"As we prepare to break ground on Thacker Pass, we have never lost sight of our broader responsibility in developing the largest and most advanced new source of lithium in the U.S. We hope to play a meaningful role in securing domestic supply of lithium to meet our country's electrification needs and are committed to doing so in a manner that benefits the people of Nevada, Native Americans, and the broader industry that has flourished in this state."
Adam Davidson, Chief Executive Officer of Trident, commented:
"We are delighted to see that Thacker Pass remains on track for construction to commence in 2022 and to note the success that Lithium Americas has had in achieving battery-quality samples in trial processing at the new Lithium Technical Development Center. We await the decision of the court regarding the final appeal, expected shortly following final briefings on August 11th. The progression of Thacker Pass to construction will be a transformational event for Trident, both in exposure to battery materials and future cashflow generation."
CEO Adam Davidson provides an overview of the business and its strategy below (Filmed May 2021)
Trident Royalty Investors Videos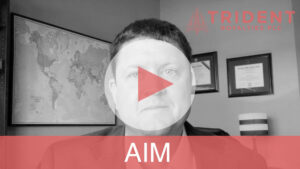 Click here to view Trident Royalty's Investor Videos