Wheaton Precious Metals: Agreement to Terminate Keno Hill Silver Stream
WHEATON PRECIOUS METALS ENTERS INTO AGREEMENT TO TERMINATE ITS EXISTING SILVER STREAM IN THE KENO HILL SILVER DISTRICT
Wheaton Precious Metals™ Corp. ("Wheaton" or the "Company") is announcing that it has entered into a definitive agreement with Hecla Mining Company ("Hecla") (NYSE:HL) to terminate its silver stream on Alexco Resource Corp.'s ("Alexco") (NYSE American/TSX: AXU) Keno Hill Silver District ("Keno Hill") in the Yukon, Canada for US$135 million.
"The termination of the Keno Hill stream further demonstrates our ability to strategically identify opportunities both inside and outside of our portfolio that create value for our shareholders and positions Wheaton to continue to have one of the strongest balance sheets in the industry. While we firmly believe that Keno Hill is a high-quality district with significant exploration potential, given recent announcements, the ability to obtain an immediate return on the termination of the stream was too compelling to ignore," said Randy Smallwood, Wheaton's President and Chief Executive Officer. "We believe Hecla is well positioned to effectively mine Keno Hill and maximize its full potential."
On July 5, 2022, Hecla announced its intention to acquire Alexco through a definitive arrangement agreement, which remains subject to shareholder and regulatory approvals. The termination of the Keno Hill silver stream is conditional upon Hecla completing its announced proposed acquisition of Alexco together with other customary approvals.
As consideration for the termination of the Keno Hill silver stream, Hecla will issue to Wheaton $135 million of Hecla common shares. Subsequent to the closing of the termination of the Keno Hill silver stream, Wheaton will own approximately 5.6% of Hecla's issued and outstanding common shares. The exact number of Hecla common shares to be issued will be calculated immediately before the closing date.
Hecla is the largest primary silver producer in the United States. In addition to operating mines in Alaska, Idaho and Québec, Canada, the Company owns a number of exploration projects in world-class silver and gold mining districts throughout North America.
The closing of the transaction with Hecla, including the termination of the Keno hill stream, is subject to Hecla closing its acquisition of Alexco and other customary conditions.
In the interview below CEO Randy Smallwood provides an overview of the business and his view on the precious metals market
Wheaton Precious Metal's Investor Videos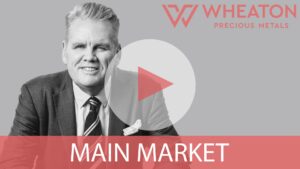 Click here to view Wheaton's Investor Videos