Trident Royalties: AGM Statement
AGM Statement
Trident Royalties Plc (AIM:TRR), the diversified mining royalty and streaming company, is pleased to provide the below statement by its Non-Executive Chairman, Paul Smith, which will be read at today's Annual General Meeting.
"2021 was a transformational year for Trident. We completed 4 investments during the year, followed by the acquisition of the gold offtake portfolio in January 2022.
This brought the total number of assets to 22, of which 12 are now producing. The impact of these transactions was reflected in our Q1 results, which saw a 400% year on year increase in royalty receipts.
Trident's business model is well suited to the current economic environment as it provides investors with exposure to commodity prices but largely without the associated inflation in operating and capital costs.
Appetite for mining development capital continues to be strong and royalties are likely to be an increasingly important component given more challenging public markets.
We believe we are well placed to continue to create value for our shareholders and we look forward to providing updates over the course of the year."
CEO Adam Davidson provides an overview of the business and its strategy below (Filmed May 2021)
Trident Royalty Investors Videos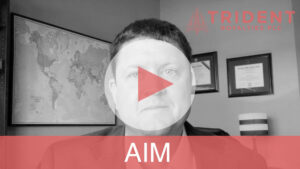 Click here to view Trident Royalty's Investor Videos