HeiQ: Commercial progress of HeiQ's Hygiene technologies
Commercial progress of HeiQ's Hygiene technologies across multiple markets
HeiQ Plc (LSE:HEIQ), an established global brand in materials and textile innovation that operates in high-growth markets, is pleased to provide an update regarding the latest developments made within its Hygiene technology business.
Following three strategic acquisitions in 2021, HeiQ strengthened its Hygiene technology offering for healthcare, facility management, coatings, antimicrobial plastics and textile industries with a range of pre and probiotic, bio-based botanical solutions, including its HeiQ Synbio technology. HeiQ now has one of the most sustainable product ranges in the specialty hygiene ingredients industry today.
A Review on Antimicrobial Resistance (AMR) commissioned by the UK government estimates that by 2050, there will be 10 million deaths globally per year due to antimicrobial resistance1. A McKinsey study predicted that consumer focus on health and hygiene, increased due to the recent pandemic, will endure in the long term2. With this in mind, HeiQ has made it one of its business imperatives to introduce effective and sustainable hygiene solutions to healthcare facilities and across the markets it operates in.
Strong independent validation of HeiQ Synbio cleaning performance probiotic cleaning compared to conventional disinfectants in preventing AMR in hospitals
A recent study by the Charité-Universitätsmedizin Hospital in Berlin found that European hospitals could save €760 million a year in medical costs related to HAI. through switching to probiotic cleaning products such as HeiQ Synbio from traditional disinfectants*.
HeiQ Synbio is proven to reduce AMR on hospital surfaces by up to 99.9%3 and to reduce incidences of HAI by up to 52%4,5 more effectively compared with traditional disinfectants.
As a result of using probiotic cleaning products such as HeiQ Synbio, experts have demonstrated that hospitals could see a reduction in costs associated with HAI by up to 75%4.
Positive implications on HeiQ's business
Following the publication of the results from the study in Charité-Universitätsmedizin Hospital, HeiQ relaunched the extended HeiQ Synbio range at Interclean Amsterdam, the world's largest professional cleaning and hygiene exhibition, and held a seminar on Spectacular Sanitization of Healthcare Facilities.
HeiQ expects the EU to follow these positive scientific results and revise their facility management protocol guidelines for hospitals which will accelerate the adoption of the study recommendations. The Charité-Universitätsmedizin Hospital has started purchasing HeiQ Synbio cleaners.
Commercial progress of HeiQ's broad Hygiene technologies across multiple markets
HeiQ recently launched its innovative HeiQ Sanpure BIO, a 100% bio-based cleaner for facility management which enables less frequent cleaning, and secured Engie Facility Management (part of Engie SA, a French group with €60 bn turnover in 2019) as its first adopter.
Greenspeed, HeiQ's main distributor to hospitals in Benelux countries, has successfully launched two further new HeiQ Synbio enabled products.
Helly Hansen (part of Mark's Canada, a company valued at CA$1.2 bn) launched HeiQ Viroblock treated gowns with 99% reduction claims for staphylococcus aureus & Sars-Cov-2 with a medical device categorisation for hospitals in Canada.
Field trials conducted for Malteser International – an international non-governmental humanitarian aid agency like the Red Cross – demonstrates that HeiQ Sanpure Permanent Coating reduces bacterial loads in ambulances by more than 50%. HeiQ has developed critical healthcare surfaces.
HeiQ filed for a new HeiQ Synbio patent for textile applications focusing on home textiles with anti-allergen and odour control claims. A product launch is scheduled for Q3.
HeiQ and its long-term research partner Patagonia announced the launch of HeiQ Fresh MNT, a jointly-developed odour control textile technology based on renewably-sourced mint oil, complementing the Company's HeiQ Fresh family of sustainable odour management technologies consisting of mineral-based HeiQ Fresh HAX and bio-based HeiQ Fresh FFL.
HeiQ Group Co-Founder and CEO, Carlo Centonze said:
"I am delighted to report that momentum across our Hygiene technology offering continues at an extremely high pace, with our products independently proven to solve devastating issues which are affecting people and medical facilities worldwide. The natural ingredients used in our products mean that they are not only capable of saving lives and costs, but that they can do so in a way which does not harm the environment. This is causing governments to reassess their guidance, which demonstrates the importance of our findings and the scale of the issues we are solving.
"New contracts have been signed and brands brought on board, and we have also launched new products and patent applications to solidify the future potential of our product range, which is the strongest and most sustainable in the specialty hygiene ingredients industry. This is an exciting time for our Hygiene technology business and with a strong pipeline in place, we look forward to sharing future updates with our shareholders."
Below is an interview with HeiQ's CEO & FD, who provide the highlights from the year end results
HeiQ Investor Videos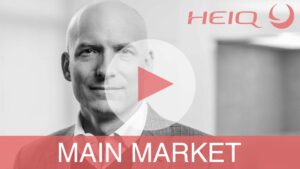 Click here to view HeiQ Investor Relations Videos