Calnex Solutions: Final Results
FY22 Final Results
Calnex Solutions plc (AIM: CLX) provides test and measurement solutions for the global telecommunications sector and is pleased to announce its audited results for the 12 months ended 31 March 2022 ("FY22" or the "Year").
Financial Highlights
P&L
FY2022
£~000
FY2021
£~000
YoY % Change
Revenue
22,046
17,978
23%
Underlying EBITDA
6,351
5,496
16%
Adj PBT
5,973
5,068
18%
Adj Basic EPS (pence)
5.19
5.83
(11%)
Adj Diluted EPS (pence)
5.00
5.21
(4%)
Closing cash and fixed term deposits
15,357
12,668
21%
Statutory measures
PBT
5,973
3,647
64%
Basic EPS (pence)
5.19
4.68
11%
Diluted EPS (pence)
5.00
4.18
20%
Revenue growth of 23% to £22.0m (FY21: £18.0m) as a result of robust trading performance, reflecting continued high demand for our range of test and measurement solutions.
Growth in adjusted profit before tax of 18% to £6.0m (FY21: £5.1m).
Closing cash position, including fixed term deposits, of £15.4m (31 March 2021: £12.7m).
Proposed final dividend of 0.56 pence per share, making a total of 0.84 pence per share for FY22.
Operational Highlights
Strong demand for test instrumentation, with new product launches in FY22 well received by customers.
Core business supplemented by expansion into O-RAN testing for 5G standards and data centre engagements which continue to drive the requirement for performance testing.
Increased staffing levels across business development, sales, R&D and support roles, to support growing customer demand, new product development and maximise exposure in new and existing territories.
Maintained timely shipments to customers, whilst continuing to navigate the semiconductor component shortage.
Post Period End Highlights
Acquisition of iTrinegy Limited ("iTrinegy") successfully complete in April 2022, a leading developer of Software Defined Test Networks technology for the software application and digital transformation testing market, representing Calnex's move into an attractive new market.
Awarded two 2022 Queen's Awards for Enterprise: Innovation and International Trade.
Outlook
The business continues to benefit from the evolutionary trends affecting the telecoms sector, notably in 5G and cloud computing. Demand for test equipment therefore remains strong and Calnex begins FY23 with a record order book.
The Board remains aware of potential effects of the global semiconductor component shortage on the business,although the Group has successfully navigated the challenges to date.
As a result of the continued high demand for Calnex's products and services, and the Group's record order book, the Board is confident of achieving another successful year of growth in FY23.
Tommy Cook, Chief Executive Officer and founder of Calnex, said:
"It is with great pride that we are presenting such a strong set of results for Calnex, in what has been a complicated year. To deliver record performance, exceeding market expectations, whilst dealing with the effects of a global pandemic and global semiconductor component shortages, is truly exceptional. The strength and quality of the Calnex team and the relationships we hold has never been more apparent.
The transition to 5G and growth in cloud computing continues to drive demand for test instrumentation and Calnex is in a strong position to continue benefitting from these market trends. We have made good progress in executing on our strategy, paving the way for accelerated future growth. The recent acquisition of iTrinegy represents a move into a new adjacent market and we anticipate accelerated sales in the long-term. Furthermore, we have invested in our team and resources, the continued positive response to the new product launches provides optimism with regards to the long-term demand for our offering.
Whilst looking to the future with a degree of caution given the continuing component shortage situation, we can take confidence from the ability with which we have managed the situation to date, successfully shipping scheduled orders as planned. We move into FY23 with a record order book and look to the future with a strong sense of optimism."
In the interview below (filmed at the IPO) CEO Tommy Cook provides an overview of the business, the market within which they operate and future growth plans
VIDEO: Calnex Solutions
Calnex Solutions Video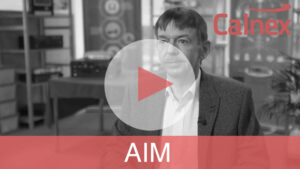 Click here to view Calnex Solutions investor relations films