Trident Royalties: 2021 Full Year Results
2021 Full Year Results
Trident Royalties Plc (AIM:TRR, FSX:5KV), today announces its full year results for the year ended 31 December 2021. The Annual Report and Accounts for the year ended 31 December 2021 and Notice of the 2022 Annual General Meeting will be made available to download from the Company's website at www.tridentroyalties.com in due course.
Chairman's Statement
2021 was another transformative year for Trident Royalties. We added a further 4 investments during the year followed by the substantial acquisition of the gold offtake contracts in January 2022, bringing the total to 22 of which 12 are now producing. The acquisition of the Thacker Pass lithium royalty together with the gold offtake contracts, both from funds managed by Orion Resource Partners, were particularly notable. We entered 2022 with a portfolio capable of immediate and meaningful cash generation as well as substantial future optionality.
2021 was very strong year for financial markets as easing monetary conditions combined with fiscal stimuli designed to ensure a rapid recovery from the economic effects of Covid. Commodity markets were particularly strong in most areas, notably base and battery metals. Momentum around decarbonisation has continued to build globally.
2022 has so far seen far weaker financial markets. Covid in China and the Ukrainian war have had a demonstrably negative impact on real demand globally. Rising interest rates designed to curb evident inflation have further eroded sentiment in financial markets and the real world. None of these factors seems likely to recede particularly quickly so we can expect continued volatility and pressure on the underlying economy over the course of the year.
Notwithstanding the more challenging short term economic conditions, Trident will continue to look to deploy capital, consistent with our investment criteria of materially exceeding our cost of capital. We will also target ways to improve our rating and reduce our cost of capital. This should occur naturally as we add more assets and the level of diversification, optionality and cash flow continues to build. This s-curve can be seen in the evolution of our more mature and larger gold royalty peers.
We believe that we can add most value to shareholders through growth and we continue to see a lot of opportunity. The priority remains to invest in value accretive deals, particularly at this stage in our development. However, we intend to write a dividend policy during 2022, so that shareholders get greater transparency over our planned allocation of capital.
Potential deal flow currently continues to be both numerous and attractive. Our priority will remain royalties in established mining jurisdictions which are immediately or very near-term cash generative.
The underlying drivers of decarbonisation mean that an unprecedented level of investment into base and battery metals will be required over the next decade. Base and battery metals are therefore likely to continue to offer some of the most attractive returns for royalty providers such as Trident.
In terms of the Board, I was delighted to join as Chairman in June. We also welcomed the experienced deal-maker Peter Bacchus in July complementing a very capable and experienced Board. Alongside Adam Davidson as Chief Executive Officer the small management team (and a small team of advisers) continue to be relentless in driving the business forward, intent on implementing the Board strategy and adding value for shareholders. Finally, I would like to thank long-term and new shareholders who continue to support the business recognising the huge opportunity that Trident offers.
CEO Adam Davidson provides an overview of the business and its strategy below (Filmed May 2021)
Trident Royalty Investors Videos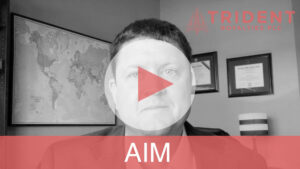 Click here to view Trident Royalty's Investor Videos