Wheaton Precious Metals: Q1 2022 Results
WHEATON PRECIOUS METALS ANNOUNCES SOLID START TO 2022
"Wheaton once again had a solid start to the year, generating over $210 million in operating cash flow and continuing to return value to our shareholders through our competitive dividend," said Randy Smallwood, President and Chief Executive Officer of Wheaton Precious Metals. "In the first three months of 2022, we added two new streams and increased our interest in a pre-existing stream. In addition, we took a significant step in strengthening our environmental, social and governance strategy by formalizing our climate change policy, including setting a goal of reaching net zero carbon emissions by 2050. The year is off to a good start, and I look forward to advancing on all of our initiatives throughout the year in order to continue building a strong, sustainable business, that delivers value and growth to all of our stakeholders."
First Quarter 2022 Highlights:
Over $305 million in revenue and $210 million in operating cash flow during the quarter, resulting in a net cash balance of $376 million as at March 31, 2022.
$158 million in adjusted net earnings1 during the first quarter of 2022.
Announced a new precious metal purchase agreement ("PMPA") on Adventus Mining Corporation's Curipamba Project in respect of gold and silver production.
Announced PMPA on Sabina Gold & Silver Corp.'s Goose Project in respect of gold production.
Amended the PMPA on Aris Gold Corp.'s Marmato Mine, increasing the gold stream in exchange for additional upfront consideration.
Adopted a climate change policy and commitment to net zero carbon emissions by 2050.
Declared quarterly dividend of $0.15 per common share, an increase of 7% relative to the comparable period in 2021.
In the interview below CEO Randy Smallwood provides an overview of the business and his view on the precious metals market
Wheaton Precious Metal's Investor Videos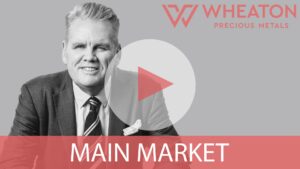 Click here to view Wheaton's Investor Videos