Trident Royalties: Q1 Activites Update
Q1 2022 Activities Update
Trident Royalties Plc (AIM: TRR), is pleased to provide an update on its activities undertaken during the quarter ended 31 March 2022, including Q1 royalty receipts.
Royalty Stream                               Q1 2022               Q4 2021            Q1 2021
Koolyanobbing iron ore royalty       A$209,877                    –                      A$100,479
Mimbula copper royalty                    US$500,000        US$375,000         US$375,000
Gold offtakes portfolio                      US$1,577,958                –                         –
Total (US$)                                     US$2,234,988   US$375,000    US$451,384
*Reserve Bank of Australia for 31 March 2021 (0.7602) and 31 March 2022 (0.7482)
Record royalty receipts for the Company, including first contribution from gold offtakes portfolio acquired 11 January 2022, representing an increase of 496% vs Q4 2021 and an increase of 395% vs Q1 2021.
Continued momentum through strong portfolio growth, with three acquisitions announced or completed during the period.
Pleasing progress made at the Thacker Pass lithium project, where Lithium Americas received all final key Nevada state-level environmental permits. Finalisation of the Federal Record of Decision ("ROD") permitting process is expected in Q3 2022.
Excellent performance of the gold offtakes portfolio, with two assets announcing first gold in the quarter and the Blyvoor mine accelerating production ramp-up in March.
Recommencement of revenue from iron ore sales from Trident's royalty tenement at the Koolyanobbing Mine in Western Australia.
Post the period end, a favourable restructure of the Premier Offtake, triggering a payment to Trident of US$3.7 million.
Adam Davidson, Chief Executive Officer of Trident commented:
"This has been an excellent start to the year for Trident. Completion of the gold offtakes acquisition coupled with positive advancements at several portfolio assets has significantly enhanced the quality of our portfolio. Most notably, Trident's year-on-year quarterly revenue has increased by almost 400%, with increasing internal cash generation providing us with further flexibility for financing and acquisitions. The progress in our assets demonstrates the success of our strategy and the importance of selecting the right assets and operating partners. In addition, we have continued to deliver on growth, with three transactions announced or completed during the quarter. We are confident regarding our outlook, with a strong pipeline of value accretive opportunities across a range of commodities and geographies."
CEO Adam Davidson provides an overview of the business and its strategy below (Filmed May 2021)
Trident Royalty Investors Videos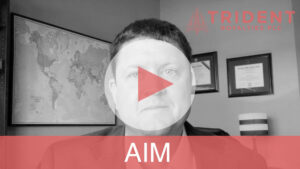 Click here to view Trident Royalty's Investor Videos