eEnergy: Trading Update and Board Change
eEnergy Trading update and Board Change
eEnergy (AIM: EAAS), the digital energy services company, today publishes an update in respect of the current financial year to 30 June 2022.
Summary
The Board is pleased with the strategic progress to date

Integration of UtilityTeam on track to be delivered by end of the financial year
Record contract signings (including renewals) in Q3 of £8.6 million
Recent launches of Solar and EV Charging solutions generating higher than expected levels of customer engagement
Strong revenue and earnings trajectory in the business, with the exception of Ireland
Robust long-term market opportunity with increased focus on renewables

The Board is now expecting revenue and Adjusted EBITDA to be behind current market expectations for the current financial year as a result of:

Ireland business has experienced longer Covid lockdowns with slower than expected recovery post first half results
Customers are entering into larger multi-service contracts resulting in longer conversion times from signing to installation

The Board expects to deliver approximately £23.0 million of Revenue and approximately £3.0 million Adjusted EBITDA for FY22
Trading update
In Q3 FY22, the Group delivered strong new customer wins across its two core divisions of Energy Efficiency and Energy Management, signing £8.6 million of contract value across a broad range of Education, other Public Sector and C&I customers. This momentum has continued into the start of Q4 with further increases in the new business pipeline expected as commercial energy users seek to mitigate price increases through smart procurement, onsite generation and reducing consumption through energy efficiency measures.
At 31 March, contracted forward revenues had increased to £23.0 million from £18.0 million at 31 December 2021. £19.6 million of this related to energy management and £3.4 million related to energy efficiency contracts. Of the £23.0 million, approximately £8.3 million is expected to be recognised in FY23.
The Group is pleased to announce that the recent launch of eCharge, its EV charge point operating business which is aiming to create the UK's largest public sector charging network, has exceeded management's early expectations, with a strong pipeline of opportunities from existing group customers built within the first 30 days of launch.
Demand from both existing and new customers for onsite solar generation has been significant given the sharply improved spread between implied cost per KwH for onsite generation and grid energy prices. The Group is developing its solar capability in response. During Q3 and Q4 to date, Heads of Terms have been signed for £7.8m contract value of onsite solar with existing customers which the Board expects will convert to revenues during H1 FY23.
Outlook
The Group continues to have a growing pipeline of new business opportunities across both Energy Management and Energy Efficiency which the Group expects to convert during H1 FY23.
As previously reported, H1 FY22 revenues suffered from the negative impacts of Covid lockdowns on the pipeline in Energy Efficiency, in addition to disruption caused by the energy crisis sparked by the conflict in Ukraine, which impacted Energy Management. Ireland, in particular, has suffered from harsher and longer lockdowns during the period. At the same time, lead times from sale to revenue have increased as the Group expands the value and breadth of its contracts, due in part to the increased interest from customers seeking more than one of its services.
As a result, the Board is now expecting revenue and Adjusted EBITDA to be behind current market expectations for the current financial year with revenue of approximately £23 million (up c. 70% from £13.6 million in FY21) and Group Adjusted EBITDA of approximately £3.0 million (up c. 250% from £0.8 million in FY21).
In FY23 the Board plans to increase operational investment, in particular through eCharge and onsite solar generation, to capitalise on enhanced long-term growth opportunities presented by the energy crisis. As a result, the Board expects lower Adjusted EBITDA margins in FY23 than current market expectations whilst still delivering improved margins over FY22.
Management and Directorate changes
Ric Williams, Chief Financial Officer, has advised the Board of his intention to step down from the Board to pursue other opportunities. Ric will leave the Company on 31 July 2022 following an orderly handover process. The Board would like to thank Ric for his contributions to the growth of the business and its transition to an integrated energy services business and wishes him well in his future ventures.
Crispin Goldsmith, a member of the Group Executive team and currently Chief Strategy & Commercial Officer, has been appointed by the Board as Interim CFO.
Crispin has over 20 years of experience in corporate finance and M&A and substantial board level experience across a range of businesses. His previous roles include Director of Strategy and Corporate Development at Dixons Carphone, Investment Director at Duke Street, a leading UK private equity firm and Director at Royal Bank Equity Finance, the manager of the £1.1 billion RBS Special Opportunities Fund. Crispin started his career at PwC where he qualified as a Chartered Accountant.
The Board expects to confirm Crispin's permanent appointment as CFO and as a Group Board Director once customary due diligence by the Company's nominated adviser is completed.
Harvey Sinclair, CEO of eEnergy Group plc, said, "As announced in our Half Year results, the financial performance of the Group was broadly in line with our expectations and Q3 saw record contract signings with customers responding to higher energy prices. We are pleased to see this momentum continuing with a strong start to Q4 and a robust sales pipeline to take us into FY23.
"Despite these gains, the impact of covid lockdowns in H1 has continued in Ireland which has seen a slower than expected recovery. Adding to this, we are seeing longer lead times between signing and project completion for the larger, multi service contracts we are now winning. Whilst this is inherently a positive, the longer lead times means certain contracted revenues will now fall after the financial year end.
"The Board is pleased with the new business pipeline momentum which is not only seeing cross selling of services to existing clients but also to new customers seeking multiservice Net Zero strategies across our energy efficiency and energy management divisions. We continue to invest in new products and services and are excited by the launch of eCharge and our onsite solar power generation offering which has met with strong demand."
The film below, shot at last year's full year results, outlines eEnergy's services and growth strategy
eEnergy Investor Videos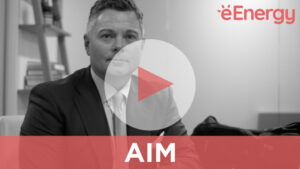 Click here to view LON: EAAS videos