Bushveld Minerals: Q1 2022 Operations Update
Q1 2022 Operational Update
Bushveld Minerals Limited (AIM: BMN), the AIM quoted integrated primary vanadium producer and energy storage solutions provider, is pleased to provide an operational update for the three months ending 31 March 2022.
Key Highlights
Production increase on the back of continued operational stability and enhanced safety

Q1 2022 Group production of 972 mtV, one per cent higher than Q4 2021 of 962 mtV
Q1 2022 Total Injury Frequency Rate ("TIFR") improved by 37 per cent to 5.38 (Q1 2021: 8.54)

Vametco's C1 cost improved on the back of higher throughput while Vanchem was impacted by lower production

Vametco's production cash cost (C1) of US$22.1/kgV improved by 17 per cent on Q1 2021, as a result of the higher throughput.
Vanchem's production cash cost (C1) of US$38.6/kgV increased by 26 per cent on Q1 2021, as a result of the lower Q1 2022 volumes and increase in raw materials and maintenance costs, and are expected to normalise in line with guidance, on the back of the expected higher throughput for the rest of the year with Kiln 3 coming on stream.

Managing a challenging domestic and international logistics chain.

Q1 2022 Group sales of 857 mtV1, were nine per cent higher than the previous year (Q1 2021: 788 mtV), but three per cent lower than Q4 2021 (Q4 2021: 880mtV).
The challenging logistics chain has resulted in a marginal inventory build-up of 25 mtV (Q4 2021: 278 mtV), with finished products cumulative inventory of 850 mtV (Q4 2021: 825 mtV), throughout the logistics chain (stock at site, transit to Port, sea-borne and in-country warehouses).
Post quarter end, the recent disastrous floods in Kwa-Zulu Natal, South Africa have severely affected operations at the Port of Durban with shipments being delayed by between 14 and 21 days. To mitigate this, Bushveld is in the process of diverting exports through alternative South African ports, including Cape Town. The current elevated stock levels throughout the logistics chain are cushioning the negative effects this natural disaster may have on Group sales.

Unaudited cash and cash equivalents of US$12.7 million as at 31 March 2022 (31 December 2021: US$15 million). Positive cash generation from operations impacted by, among others, capital expenditure, loan repayments and increasing working capital requirements.
On track to meet 2022 production and cash cost guidance.

The Group production guidance of between 4,200 mtV and 4,400 mtV is weighted towards the second half of the year, based on the commissioning of Kiln 3 which has commenced. Kiln 3 will more than double Vanchem's production run rate once fully ramped up, with Bushveld targeting an annualised steady state production run rate of between 5,000 mtVp.a. and 5,400 mtVp.a. by the end of 2022.
1. Reported as final sales to customers.
Vanadium market
London Metal Bulletin ("LMB") FeV price averaged US$46.1/kgV in Q1 2022 relative to Q1 2021 (Q1: 2021: US$30.9/kgV) with the year to date average increasing to US$47.4/kgV as at 22 April 2022.

The current LMB FeV price as at 22 April 2022 of US$49.0/kgV is above the yearly average although off its peak of US$62.0/kgV seen in mid-March 2022.
The stronger prices in 2022 have a positive impact on Bushveld's cash flow generation.
Demand for vanadium in major markets remains buoyant. Prices across the three major markets (North America, Europe and Asia) are expected to converge around Asian benchmark prices over the remainder of Q2 2022.
Fortune Mojapelo, CEO of Bushveld Minerals Limited, commented:
"I am pleased to report a strong start to the 2022 financial year, with another solid set of quarterly operating results. Notwithstanding the challenges at the beginning of the previous year, we have successfully produced four quarters of consistent performance, building on the operational improvements and enhanced safety initiatives, which facilitated and entrenched operational stability from Q2 2021 onwards. The stable, achievable production level provides the platform to support growth and sustainable volume increases.
"The commissioning of Kiln 3 has commenced, and we are on track to significantly increase the Group's production run rate to between 5,000 mtVp.a. and 5,400 mtVp.a. by the end of this year, with an annual guidance of between 4,200 mtV and 4,400 mtV. This will be a significant increase from the total production of 3,592 mtV recorded in 2021 and demonstrates the growth potential of our assets. This reinforces our confidence to pursue further growth through the exploitation of our substantial resource portfolio, which is one of the largest, high-grade primary vanadium resource bases in the world, with many decades of mining potential.
"Growth in production volumes reduces unit costs and is key to margin expansion, increased profitability and long term sustainable cash generation throughout the commodity cycle, given the historic volatility of the Vanadium price. We continue to pursue cost improvement initiatives.
"Demand for vanadium in Bushveld's major markets remains buoyant, however challenging South African and International logistics chains and the scheduled June shut-down at Vametco, which will require careful in-country stock management, have restricted sales volumes. Sales volumes are expected to increase from Q2 2022, to reflect greater Vanchem production with stock levels reducing to steady state levels."
In the film below, SP Angel Analyst John Meyer highlights the investment case for Bushveld Minerals
Bushveld Investors Videos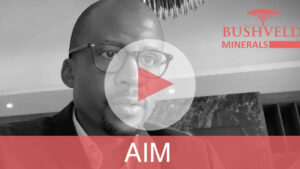 Click here for more Bushveld investor videos