Altus Strategies: Update on Gold and Copper Royalties
Update on Copper and Gold Royalty Revenues
Altus Strategies Plc (AIM: ALS, TSX-V: ALTS, OTCQX: ALTUF) announces strong copper and gold royalty revenues of US$1.7 million (pre-tax) in the first quarter since the acquisition of a portfolio of royalties from Newcrest Mining Ltd (the "Newcrest Portfolio"). Altus currently owns 33 royalty interests including royalties on four producing mines, namely, the Caserones copper mine in Chile, the South Kalgoorlie Operations gold mine in Australia ("SKO"), the Ballarat gold mine in Australia and the Bonikro gold mine in Côte d'Ivoire.
Highlights:
Royalty revenues of US$1.7M (pre-tax) in first quarter since acquiring the Newcrest Portfolio
Revenues from the Caserones copper mine as well as the SKO and Ballarat gold mines
Altus holds 33 separate royalty interests, including royalties on four producing mines
Numerous strategic royalty acquisition opportunities are currently under review
Steven Poulton, Chief Executive of Altus, commented:
"We are delighted that our royalty acquisition strategy is already delivering significant returns, with pre-tax copper and gold royalty revenues of US$1.7 million in the first quarter since we acquired the Newcrest Portfolio. This exceptional performance reflects the transformative royalty acquisitions we have completed since August last year, as well as the continued strong demand for copper and gold.
Altus has established a global portfolio comprising 33 royalty interests and 27 project interests across nine countries and nine metals. We are actively assessing a number of potentially accretive royalty acquisition opportunities to further grow our portfolio and revenues. Separately, our experienced technical teams are actively advancing numerous prospective gold and base metal projects across Africa as part of our high-impact 'boots on the ground' royalty generation strategy.
We believe our hybrid approach, which combines royalty acquisition with organic royalty generation, differentiates Altus from other royalty groups and provides our shareholders with the optimal blend of short-term income and long-term capital growth potential. I look forward to updating shareholders on these activities in due course."
In the TV clip, CEO Steve Poulton provides an overview Altus and its unique strategy
Altus investor videos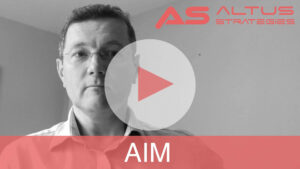 Click here to view LON: ALS videos