Supermarket Income REIT: Interim Results
INTERIM RESULTS FOR THE SIX MONTHS ENDED 31 DECEMBER 2021
GROCERY SECTOR STRENGTH AND INFLATIONARY TAILWINDS PROVIDE SUPPORTIVE BACKDROP FOR SUPERMARKET INCOME REIT
The Board of Directors of Supermarket Income REIT plc (LSE: SUPR), the real estate investment trust providing secure, inflation-protected, long income from grocery property in the UK, is today reporting its interim results for the Group for the six months ended 31 December 2021 (the "Period").
Financial Highlights (6 months to 31 Dec '21)
Annualised Passing Rent UP 52% to £70.2m (2020: £46.1m)
EPRA Earnings UP 74% £26.9m (2020: £15.5m)
Profit before tax UP 109% to £68.9m (2020: £33m)
Dividend paid per share UP 3% to 3pence (2020: 2.9 pence)
IFRS EPS UP 34% to 7.9 pence (2020: 5.9 pence)
EPRA EPS UP 11% to 3.1 pence (2020: 2.8 pence)
EPRA dividend cover: 1.13x (2020: 1.12x)
IFRS net assets UP 28% to £1,115m (2020: £871m)
EPRA NTA UP 28% to £1,113m (2020: £872m)
EPRA NTA per share UP 5% to 113 pence (2020: 108 pence)
Loan to value (Direct Portfolio) DOWN 6% to 32.1% (2020: 34%)
Portfolio net initial yield: 4.7% (2020: 4.7%)
48% Total Shareholder Return for the year and 40% since initial listing in July 2017

[1]

On track to deliver full-year 2022 target dividend of 5.94 pence per share
Direct Portfolio independently valued at £1,413.5 million, increasing by £265.1 million for the Period following valuation growth of £21.7 million and new acquisitions of £243.4 million (excluding acquisition costs)

2% valuation growth on a like-for-like basis for the Period
Direct Portfolio net initial yield ("NIY") of 4.7%
Direct Portfolio weighted unexpired lease term ("WAULT") of 15 years

Annualised passing rent increased by 52% to £70.2 million following rent reviews and new acquisitions during the Period
Value of investment in the Sainsbury's Reversion Portfolio increased by £37.2 million to £167.5 million, following the exercise of purchase options by Sainsbury's
EPRA NTA per share increased by 5 pence in the Period to 113 pence as at 31 December 2021
BUSINESS HIGHLIGHTS IN THE PERIOD
Further portfolio growth through the deployment of £200.0 million of equity raised via an upsized and over-subscribed Placing and Offer for Subscription in October 2021
Acquisition of eight omnichannel supermarkets at an aggregate purchase price of £243.4 million (excluding acquisition costs)

New acquisitions weighted average NIY of 4.5%
New acquisitions WAULT of 16 years

Seven rent reviews, adding £0.9 million annualised rental income, and a lease regear completed
Sainsbury's exercised its first option to acquire 13 supermarkets in the Sainsbury's Reversion Portfolio
POST BALANCE SHEET HIGHLIGHTS
Migration of the Group's listing to the Premium Segment of the FCA's Official List and London Stock Exchange's Main Market, from the Specialist Fund Segment
Fitch Ratings Limited ("Fitch") Investment Grade credit rating of BBB+ assigned to the Group
Purchase of three omnichannel supermarkets for £128.3 million (excluding acquisition costs)

New acquisitions weighted average NIY of 4.8%
New acquisitions WAULT of 19 years

Active asset management led to a lease regear of the Tesco supermarket in Leicester
85% of rental income for the Direct Portfolio directly linked to inflation
Sainsbury's exercised its second option to acquire eight further stores in the Sainsbury's Reversion Portfolio, acquiring in total 21 of 26 stores upon current lease expiry in mid-2023
Nick Hewson, Chairman of Supermarket Income REIT plc, commented:
"I am very pleased to be reporting another strong set of results for the Group which reflect significant growth in the Period.
We have continued to diversify our portfolio by sourcing and acquiring high quality omnichannel supermarket properties that represent the future model of grocery in the UK. We are delighted to have achieved the strategic milestones of becoming a Premium Segment listed company and receiving an Investment Grade credit rating, demonstrating both the strength and maturity of our business. Since our IPO in July 2017, we have delivered a Total Shareholder Return of 48% for our shareholders.
In this highly inflationary environment, our portfolio offers investors secure, long-term, inflation-protected income that is backed by one of the most compelling real estate asset classes in the UK investment market."
Below is a video, shot with the investment team of Atrato Group, the advisors behind SUPR, highlighting the Group's investment strategy
VIDEO: Supermarket Income REIT
Supermarket Income REIT Video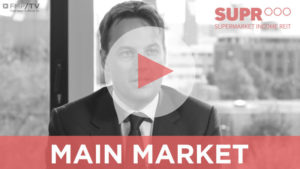 Click here to view Supermarket Income REIT investor relations films