Bango commences trading on OTCQX Best Market in US
Bango commences trading on OTCQX Best Market in the United States
Bango (AIM: BGO; OTCQX: BGOPF), the global platform for data-driven commerce, announces that it begins trading today in the United States on OTC Markets Group's OTCQX Best Market ("OTCQX"), under the ticker symbol "BGOPF". Bango's ordinary shares of 20 pence each ("Ordinary Shares") will continue to trade on the AIM market of the London Stock Exchange plc ("AIM") under the symbol "BGO".
In December 2021, Bango announced a change to its presentational currency to US Dollars to reflect the growing proportion of business Bango is conducting in the United States and to increase the appeal of Bango shares to a global investor audience. Trading on OTCQX will further increase the visibility and accessibility of Bango to North American investors. OTCQX supports more transparent quotation and trading of Bango Ordinary Shares in US Dollars during trading hours in the United States, allowing easier access for investors who prefer securities that trade domestically in US Dollars. Cross-trading on OTCQX is expected to widen Bango's investor base and has the potential to increase liquidity in Bango's Ordinary Shares on AIM.
This action is not a capital raise, no new Ordinary Shares will be issued, and Bango will continue to trade on AIM under the ticker symbol "BGO".
Paul Larbey, CEO of Bango, said: "To meet the increased interest from US institutional and retail investors, we have taken the decision to launch on OTCQX. The success of our payments business – particularly the recurring revenues generated by our platform product – as well as in our unique purchase behavior targeting technology, positions Bango strongly for continuing growth across our markets. I am pleased that US investors can now more easily participate in the Bango growth story."
Below is a highlights film from the recent Strategy Day held in London
Bango Investors Videos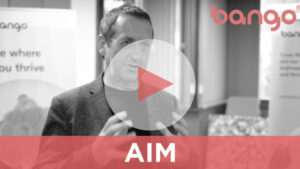 Click here for more Bango investor videos