Supermarket Income REIT: Migration of listing to the Premium Segment
Migration of listing to the Premium Segment
Further to the announcement on 20 January 2022, the board of directors (the "Board") of Supermarket Income REIT plc (LSE: SUPR), the real estate investment trust providing secure, inflation-protected, long income from grocery property in the UK, is pleased to announce that the Company has received confirmation from the Financial Conduct Authority ("FCA") that it is eligible for admission to the Premium Segment of the Official List of the FCA (the "Official List").
Accordingly, the Company has made an application for 985,434,429 ordinary shares of one pence each, representing the entire issued ordinary share capital of the Company to be admitted to the Official List of the FCA and for a transfer of the shares from trading on the Specialist Fund Segment to the Premium Segment of the London Stock Exchange plc's Main Market (together, the "Migration" or "Admission").
The Board believes that the Migration will facilitate the Company's eligibility for inclusion in the FTSE UK and FTSE EPRA NAREIT Index Series, which is expected to take place at the Q2 2022 index review, subject to meeting the other relevant requirements for such inclusion.
Admission is expected to occur with effect from 8am on 23 February 2022. The Company's ticker, ISIN and SEDOL will remain unchanged.
In conjunction with the application for Admission, the Group is required to make a statement as to the sufficiency of its working capital. Accordingly, the Board is of the opinion that the Group has sufficient working capital for its present requirements, that is for at least the next 12 months from the date of this announcement.
In connection with the Migration, the Company has made certain non-material amendments to its investment restrictions. The investment policy and updated restrictions will be made available upon Admission on the Company's website at www.supermarketincomereit.com.
Nick Hewson, Chairman of the Company, said:
"The Migration of Supermarket Income REIT to the Premium Segment of the Official List is an important next step for the business, which has grown significantly since listing in 2017, from £100 million to c.£1.2 billion market capitalisation. This has been achieved through the support of our shareholders and selective acquisitions that deliver a stable and growing income return. The Migration brings a number of benefits, not least increased liquidity in the shares and a broadening of the potential investor base."
Below is a video, shot with the investment team of Atrato Group, the advisors behind SUPR, highlighting the Group's investment strategy
VIDEO: Supermarket Income REIT
Supermarket Income REIT Video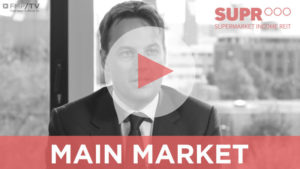 Click here to view Supermarket Income REIT investor relations films