Wheaton: Acquisition of Stream from Sabina's Goose Project
WHEATON PRECIOUS METALS ANNOUNCES THE ACQUISITION OF A
GOLD STREAM FROM SABINA'S GOOSE PROJECT
Wheaton Precious Metals™ Corp. ("Wheaton" or the "Company") is pleased to announce that it has entered into a definitive Precious Metal Purchase Agreement (the "Agreement") with Sabina Gold & Silver Corp. ("Sabina") (TSX: SBB) in respect to the Goose Project, part of Sabina's 100% owned Back River Gold District located in Nunavut, Canada (the "Goose Project"). The Goose Project is forecast to be a high margin mine in the lowest half of the gold cost curve with a 15-year mine life[1].
"The Goose Project in the Back River Gold District in Nunavut provides Wheaton with an exceptional opportunity to expand our portfolio into one of Canada's strongest and fastest-growing mining jurisdictions,"said Randy Smallwood, Wheaton's President and Chief Executive Officer. "Underscored by a respectful development approach and calculated de-risking through sound environmental and social responsibility mandates, we are proud to partner with Sabina on the advancement of this project."
TRANSACTION DETAILS
Upfront Payment: Wheaton will pay Sabina an upfront payment of US$125 million in four equal installments during construction of the Goose Project, subject to customary conditions.
Streamed Metal: Wheaton will be entitled to receive 4.15% of the payable gold production from the Mine dropping to 2.15% of the payable gold production from the Mine after delivery of 130,000 ounces of gold and dropping to 1.5% of the payable gold production from the Mine after delivery of 200,000 ounces of gold.
Production Profile: With a fixed payable rate of 99.98%, attributable gold production is forecast to average 11.7 koz per year for the first five full years of production, and 10.7 koz per year for the first ten full years. Sabina is finalizing its 2022 work program and expects production to commence in the first quarter of 2025
Production Payments: Wheaton will make ongoing production payments for gold ounces delivered equal to 18% of the spot gold price until the value of gold delivered less the cumulative production payments is equal to the upfront consideration of US$125 million, at which point the production payment will increase to 22% of the spot gold price.
Incremental Reserves and Resources: The addition of the Goose Project will increase Wheaton's estimated Proven and Probable gold reserves by 0.14 Moz, Measured and Indicated gold resources by 0.03 Moz and Inferred gold resources by 0.04 Moz. Significant exploration upside potential exists within the Goose Project with over 4 km of untested plunge length to be explored within over 15,000 hectares of mineral claims and leases.
Community Investment Support: As part of the Agreement, Sabina is eligible for additional community support through Wheaton's Partner CSR Program which provides financial support for its mining partners' economic, environmental and social initiatives within the communities that are directly influenced by the mines.
Other Considerations:

Wheaton has a right of first refusal on any future streaming agreement, royalty agreement or similar transaction entered into by Sabina or any of its affiliates relating to production of any precious metal from the Goose Project.
Security provided in respect of the Agreement will be subordinate to project debt and other customary permitted liens, and pari passu with certain other debt.
Under certain circumstances, Sabina has the option of deferring delivery of gold ounces to Wheaton if the average market price of gold falls below US$1,500 per ounce during a period of at least 180 days.
Until the Agreement parameters are met, Sabina has a one-time option to repurchase 33% of the gold stream on a change in control for an amount ensuring a fixed internal rate of return to Wheaton.
Wheaton also intends to provide up to US$20M in equity to Sabina, subject to remaining below 10% of the outstanding shares of Sabina.
INCREASE TO WHEATON'S LONG-TERM GUIDANCE
As a result of the Agreement and the forecast addition of attributable production from the Goose Project, Wheaton is increasing its ten-year production guidance to 910,000 gold equivalent ounces[3] ("GEOs") from 900,000 GEOs. 2022 and five-year guidance remain unchanged at 700,000 to 760,000 GEOs in 2022 and 850,000 GEOs on average for the next five years.
FINANCING THE TRANSACTION
The Upfront Payment will be paid over the construction of the Goose Project, coinciding with the start of construction. As at September 30, 2021, the Company had approximately US$372 million of cash on hand, when combined with the liquidity provided by the available credit under the $2 billion revolving term loan and ongoing operating cash flows, positions the Company well to fund all outstanding commitments and known contingencies as well as providing flexibility to acquire additional accretive mineral stream interests.
In the interview below CEO Randy Smallwood provides an overview of the business and his view on the precious metals market
Wheaton Precious Metal's Investor Videos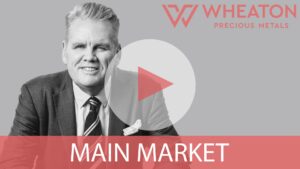 Click here to view Wheaton's Investor Videos