Trident Royalties Completes Acquisition of Cash Flowing Gold Portfolio
Completion of Acquisition of Cash-flowing Gold Portfolio
Trident Royalties Plc (AIM:TRR), the growth-focused mining royalty and streaming company, is pleased to announce that further to the announcement of 13 December 2021 and following the admission of the 20,471,151 Consideration Shares announced earlier today, its acquisition of a portfolio of producing gold offtake streams (the "Portfolio") from Orion Resource Partners ("Orion") for US$69.75 million (the "Acquisition") has now completed.
Acquisition Highlights
Highly accretive transaction providing immediate, significant cash flow: Trident estimates revenue from the Portfolio of approximately US$13.3 million in 2022 as ramp-up and expansions occur at the Blyvoor and Los Filos gold mines respectively. This is expected to increase to US$14.3 million per year between 2023-2026, settling thereafter to expected average annual revenue of US$6.3 million from 2027-2035.*
Materially increases scale and asset diversification: The Portfolio comprises offtakes covering seven producing gold mines operated in six countries. Trident's entire portfolio now encompasses a total of 20 assets, of which nine are delivering cash flow.
First major portfolio transaction delivers on strategy: Trident's largest deal to date represents a step-change transaction and re-balances the portfolio towards precious metals and cash generative assets, complementing Trident's existing base metals, battery metals and iron ore exposure. This enhanced cash flow profile is expected to support an appropriate dividend policy in due course.
Acquired offtakes historically provide a 1.33%** net smelter royalty ("NSR") equivalent return: The acquired offtakes provide 'royalty-like' exposure with returns driven by gold price, volatility, production profile, and exploration success. Between February 2020 and June 2021, under Orion's ownership, the portfolio generated a return equivalent to a 1.7%[3] NSR on revenue from the underlying projects.
US$40 million debt facility significantly reduces cost of capital: Trident has drawn a US$40 million secured debt facility with Macquarie Bank Limited to part-fund the Acquisition and to retire the previous US$10 million Tribeca debt facility, significantly reducing borrowing costs.
Maintains strong balance sheet to execute on deal pipeline: In addition to pending Q4 royalty receipts and ongoing revenue from Trident's portfolio, following completion, the Company is very well capitalised to continue to execute on pipeline transactions.
Adam Davidson, Chief Executive Officer of Trident commented:
"The completion of this transaction marks the biggest milestone achievement to date for Trident, increasing our number of producing assets by 350%. When coupled with our existing assets, the addition of a portfolio of offtakes over seven producing mines located in six countries materially increases Trident's scale and diversification. Now, not only do we provide diversified exposure to lithium, copper, gold and iron ore, but we do so with a portfolio underpinned by assets which provide investors with visibility on sustainable, well diversified cash flows far into the future. With this, we can now look at the possibility of an appropriate dividend policy in due course which will seek to provide regular returns on investment to our shareholders.
"The completion of this transaction marks a new day for Trident, propelling us to the next stage of accretive and highly cash generative growth. I hope everyone shares in our excitement as we look forward to continued growth during 2022."
$40 million Loan Facility and issue of warrants
Further to the announcement of 17 December 2021, Trident has drawn the $40 million secured loan facility from Macquarie Bank Limited ("Macquarie") to part-fund the Acquisition and to retire the previous US$10 million Tribeca debt facility. The Tribeca facility has now been repaid in full and the security granted to Tribeca released so that the security can be put in place in favour of Macquarie. In accordance with the previously announced terms, the Company has issued warrants to Macquarie to subscribe for 14,840,517 ordinary shares in Trident exercisable at £0.51 per share (the "Warrants"). The Warrants are exercisable immediately and will expire 36 months from the date of issue.
CEO Adam Davidson provides an overview of the business and its strategy below (Filmed May 2021)
Trident Royalty Investors Videos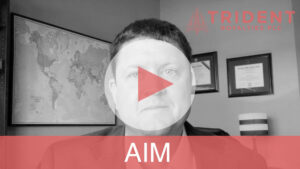 Click here to view Trident Royalty's Investor Videos