Bango: Full Year Trading Update and Notice of Results
FY 2021 Trading Update and Notice of Results
Bango (AIM: BGO), the global platform for data-driven commerce, today provides an update on trading for the twelve months ended 31 December 2021, ahead of announcing 2021 Full Year Results on 8 March 2022.
Financial Highlights (USD)*
Revenue up 32% to $20.7M (FY20 $15.7M), delivering revenue growth ahead of expectations
End User Spend (EUS) $4.1B (FY20 $2.4B)
Adjusted EBITDA** of at least $6.1M (FY20 $6.0M), in line with expectations
Net cash at 31 Dec 2021 was $9.6M (31 Dec 2020 $7.9M)
* The change in presentation currency from GBP to USD has been prepared in accordance with IAS21.
** Operating profit before depreciation, amortization and share based payments
Operational Highlights
High growth in the Payments business across major customers, including new routes with Amazon, the launches of M365 and Game Pass Ultimate with Microsoft, and global partnerships with NTT Data, KakaoPay and TPAY.
Significant Platform momentum illustrated by new, multi-year platform deals signed, including Verizon, the leading carrier in the US, which has standardized on the Bango Platform for third party merchant offers to its 140 million subscribers.
Bango Audience customers now include a FTSE 100 company, financial trading apps, cryptocurrency exchanges and a metaverse trading platform alongside the world's largest games developers.
Increased investment in Research & Development and Sales & Marketing, as planned, to drive future growth in the Platform and Bango Audiences businesses.
Paul Larbey, CEO of Bango, said:
"In 2021 Bango took several important steps to accelerate our journey from tens of millions of dollars of revenue to hundreds of millions. We delivered 32% revenue growth, ahead of market expectations, signed key new contracts for our resale and bundling platform and saw a steep rise in demand for our unique purchase behavior targeting technology from app developers spanning mobile gaming to stock trading to NFT purchases.
The launches of new Bango powered services by Microsoft and Amazon illustrate the increased importance of the Bango platform for the world's largest online merchants and highlight the trust they place in us. The resale and bundling platform deals deliver a growing, recurring revenue stream alongside the existing payments business.
This growth in the Bango Payments business provides valuable new purchase data which Bango transforms into Bango Audiences, feeding the demand for purchase behavior targeting from app developers as they seek out ways to reach those valuable paying users.
Bango technology and our partnerships give us a significant advantage as we expand in large, fast growth markets. A strong balance sheet and a strategy of investing for growth means we are well positioned to realize our goal of becoming the technology behind every payment choice."
For the purposes of UK MAR, the person responsible for arranging the release of this announcement on behalf of Bango is Paul Larbey, Chief Executive Officer.
Below is a highlights film from the recent Strategy Day held in London
Bango Investors Videos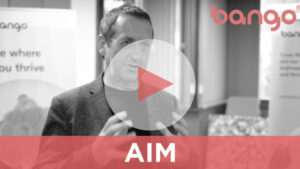 Click here for more Bango investor videos