Supermarket Income REIT: Joint Venture Portfolio Update
JOINT VENTURE PORTFOLIO UPDATE
Supermarket Income REIT plc (LSE: SUPR), the real estate investment trust providing secure, inflation-protected, long income from grocery property in the UK, announces an update in relation to its 50:50 joint venture with British Airways Pension Trustees Limited (the "JV").
The JV has a 51% beneficial interest in the Sainsbury's Reversion Portfolio (the "Portfolio"). The remaining 49% beneficial interest is held by Sainsbury's*. The Portfolio consists of the freeholds to 26 Sainsbury's supermarkets.
The Company announces that Sainsbury's has exercised its second purchase option (of two) to acquire eight stores within the Portfolio. Sainsbury's acquisition of the eight stores will be completed in July 2023 upon expiry of the current occupational leases. The purchase price under the option is to be determined based on the assumption of a new 20-year lease to Sainsbury's with the initial rent set at the higher of passing or open market, subject to upward-only, five yearly market rent reviews.
The exercise of this option is in addition to the first option exercised by Sainsbury's on 10 September 2021 to acquire 13 stores within the Portfolio, which will be completed in March 2023. In total, Sainsbury's exercised its option to acquire 21 of the 26 stores in the Portfolio.
Ben Green, Director of Atrato Capital Limited, the Investment Adviser to Supermarket Income REIT plc, said:
"Sainsbury's buyback of these stores is further evidence of the strength of demand for grocery property in the UK. The exercise of these purchase options is expected to generate a positive NTA impact for Supermarket Income REIT."
*The percentage beneficial interests noted above relate to estimated waterfall distributions to the beneficial owners which have been determined based on estimated portfolio values after deducting estimated amounts relating to the repayment of underlying bonds and other fixed and pre-stipulated payments due to the beneficial owners. The percentage allocations may differ depending on changes to the underlying estimates.
**41 directly owned supermarkets, plus 26 via joint venture.
***There is no certainty that these illustrative projections will be achieved
Below is a video, shot with the investment team of Atrato Group, the advisors behind SUPR, highlighting the Group's investment strategy
VIDEO: Supermarket Income REIT
Supermarket Income REIT Video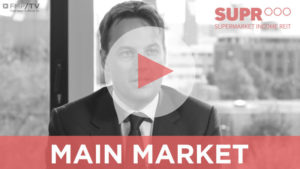 Click here to view Supermarket Income REIT investor relations films