Altus Strategies: First close of Newcrest gold royalty acquisition
First Close of Newcrest Gold Royalty Portfolio Acquisition
Altus Strategies Plc (AIM: ALS, TSX-V: ALTS, OTCQX: ALTUF) announces the completion of the first close ("First Close") of the acquisition (the "Acquisition") of a portfolio of up to 24 royalties and royalty interests (each a "Royalty" and together the "Royalties") from Newcrest Mining Ltd and certain of its group companies (together "Newcrest") announced on 13 December 2021. The Royalties are being acquired through a strategic joint venture with AlphaStream Limited ("AlphaStream"), a specialist mining royalty and streaming company. The total consideration for the Acquisition is US$ 37.5 million ("Consideration") with the aggregate amount payable by Altus being US$ 24.0 million.
As part of the First Close, Altus and AlphaStream have transferred an aggregate US$ 32,462,500 to Newcrest with the remaining aggregate balance of up to US$ 5,037,500 due to close at the end of January 2022 ("Second Close"), once certain pre-emptive rights on nine of the exploration stage royalties have either expired or been exercised. Any exercise of pre-emptive rights will cause the Consideration to be reduced.
Highlights:
First Close of the Newcrest gold royalty portfolio Acquisition completed
First Close includes Royalties over two producing mines, one near producing mine and 12 development and exploration stage assets
Potential for up to US$3.5 million annual (post tax) revenue to Altus on total portfolio based on a forecast 10 year average (also see Cautionary Note Regarding Forward-Looking Statements)
Total portfolio comprises:

Royalties over two producing mines, one near producing mine and up to 21 development and exploration stage assets
Up to 23 royalties located in Australia, a tier-1 jurisdiction
Royalty on the Bonikro gold mine in Côte d'Ivoire

Aggregate First Close consideration of US$32,462,500 paid by Altus and AlphaStream
Second Close of up to US$5,037,500 expected to be paid by Altus and AlphaStream in February 2022
Further royalty opportunities under review in parallel with active exploration in Egypt and Mali
Steve Poulton, Chief Executive of Altus, commented:
"We are pleased to confirm the First Close of the Newcrest gold royalty Acquisition, following our recently announced and oversubscribed US$26.1 million placement. The consideration payable by Altus for the whole portfolio of royalties is US$24 million and this is expected to generate up to a potential post tax income of US$3.5 million per year based on a forecast 10-year average.
"The portfolio provides Altus with immediate cash flow, portfolio diversification and is heavily weighted towards gold in Australia, a 'top tier' jurisdiction. The deal secures royalties and royalty interests over two producing mines, one near production mine, up to fifteen development stage projects and up to six exploration stage assets.
"In parallel, Altus continues to accelerate exploration at its 100% owned Diba gold project in western Mali, with a drill programme underway. Results from the drilling programme will be used to produce an updated mineral resource estimate and preliminary economic assessment. In addition, our field teams have been assessing a number of potentially significant gold prospects within our portfolio of exploration licences in Egypt. Altus is on a very strong growth trajectory and we look forward to receiving our first cashflow from the Newcrest portfolio early next year and updating shareholders on the results from our active exploration programmes".
In the TV clip, CEO Steve Poulton provides an overview Altus and its unique strategy
Altus investor videos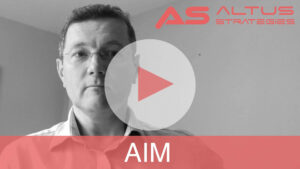 Click here to view LON: ALS videos