Supermarket Income REIT: Increase in Pipeline and Initial Issue Size
The Board of Supermarket Income REIT has decided tp increase the target size of the Initial Issue from approximately £100 million up to a maximum of £200 million, due to the strong level of investor interest, but also as a result of an increased in attractive investment opportunities.
As stated in the original announcement dated 30 September, Nick Hewson commented:
"The sustained growth in grocery sales, including the increased penetration of online, is driving value creation in the supermarket investment market. The Company has carefully grown its Portfolio to over £1.4 billion through selective and accretive acquisitions, whilst delivering investors a stable and growing income return.
"With an attractive Pipeline of assets in place, this fundraise will enable the Company to continue to execute on a number of transactions that meet our investment criteria, building on our strong track record of deploying capital into additional key omnichannel properties let to some of the UK's largest supermarket operators."
Below is a video, shot with the investment team of Atrato Group, the advisors behind SUPR, highlighting the Group's investment strategy
VIDEO: Supermarket Income REIT
Supermarket Income REIT Video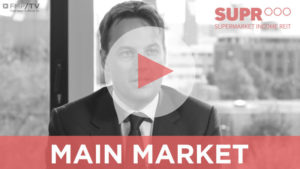 Click here to view Supermarket Income REIT investor relations films