Calnex: Trading Update
Trading Update
Calnex Solutions plc (AIM: CLX), a leading provider of test and measurement solutions for the global telecommunications sector, today provides an update on trading for the six months ended 30 September 2021 and prospects for the full year.
The Board is pleased to report that the Group has experienced continued strong levels of trading in the first half of the year and expects this trend to continue through the second half of the year.
As a result of the strong performance the Board anticipates that revenue and profits for the full year will be materially ahead of previous expectations. The Group's robust cash position has allowed the Group to bring forward planned investment in the team to increase operational capability, in line with order growth.
The Group has seen a return to pre-COVID customer spending patterns in all regions, other than in China where demand has been in line with the previous year. Factors driving the strong performance include a sustained positive response to the launch of the enhanced Paragon-Neo, Calnex's Lab Sync Platform which is being adopted both by existing customers and new customers looking to deliver products addressing the new O-RAN standards. The new version of Sentinel has also seen strong uptake from hyperscale enterprise customers who are investing in their datacentre operations.
Calnex has not experienced any negative impact from the ongoing global semiconductor shortage to date on the ability to manufacture and ship product, although the Board continues to monitor the situation closely.
The Group continues to successfully deliver on its stated growth strategy and the Board is confident in Calnex's ability to continue benefitting from the underlying market growth drivers in the telecoms market.
Notice of Results
Calnex expects to announce results for the six months ended 30 September 2021 on 23 November 2021.
Tommy Cook, Chief Executive Officer and founder of Calnex, said:
"I am delighted to provide an update on what has been another period of strong growth for Calnex. We have seen most of our customers return to pre-COVID spending patterns and have experienced demand from both new and existing customers for our latest product enhancements. Whilst we remain cautious with regards to the ongoing global semiconductor shortages, the strength in customer orders in the first half of the year provides us with confidence that the full year revenue and profits will exceed that of the record prior year and mark another considerable step forward for Calnex, as we continue to capitalise on the industry's transitions to 5G and the growth of cloud computing."
In the interview below CEO Tommy Cook provides an overview of the business, the market within which they operate and future growth plans
VIDEO: Calnex Solutions
Calnex Solutions Video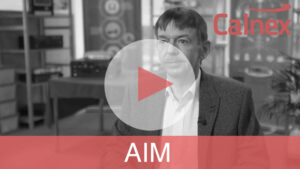 Click here to view Calnex Solutions investor relations films