Trident Royalties: Doubling of mineral reserves at Thacker Pass Lithium project
The Thacker Pass Lithium Project, for which AIM-listed Trident Royalties Plc holds a 60% interest in a gross revenue royalty over the entirety of the project the  mining royalty and streaming company, has more than doubled the size of its mineral resource estimate to 13.7Mt of lithium carbonate equivalent grading 2,231 parts per million lithium of Measured and Indicated Resources and 4.4Mt of LCE grading 2,112ppm Li of Inferred Resources.
Adam Davidson, CEO added
"This latest update from Lithium Americas more than doubles to the lithium Resource estimate for Thacker Pass which has a very positive read through for Trident's potential future earnings from this project, which is the largest lithium reserve in the United States. The ongoing Feasibility Study is now considering an optimised mine plan targeting an initial Phase 1 of 40,000tpa lithium carbonate with a potential Phase 2 expansion to target total capacity of 80,000tpa lithium carbonate – a significant increase over the Pre-Feasibility targets of 30,000tpa and 60,000tpa for Phases 1 and 2 respectively. This comes at a time when LCE prices have more than doubled over the course of 2021. In addition, Lithium Americas reports the permitting process to be on track, with a final decision expected in Q1/2022 and with the planned pilot plant expected to become operational during H1/2022.
"Under the revised production profile targets announced by LAC (but retaining the PFS LCE price of US$12,000/tonne), Phase 1 royalty revenue attributable to Trident would increase from approximately US$3.8 million per annum to +US$5 million, with Phase 2 royalty revenue increasing from approximately US$7.6 million per annum to +US$10 million; noting that the current LCE price is now >US$25,000 per tonne."
CEO Adam Davidson recently provided an update of the business and its strategy below
Trident Royalty Investors Videos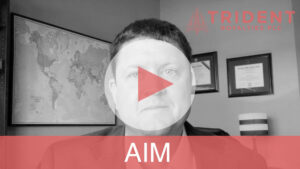 Click here to view Trident Royalty's Investor Videos