Supermarket Income REIT: Scrip Dividend Preference
Supermarket Income REIT plc (LSE: SUPR), the real estate investment trust providing secure, inflation-protected, long income from grocery property in the UK, today announces that the reference price of a new Ordinary Share under the Company's scrip dividend alternative for the interim dividend in respect of the period from 1 April 2021 to 31 June 2021 (the "Interim Dividend") has been set at 116.95 pence.
This is the average of the middle market prices of the Company's Ordinary Shares derived from the London Stock Exchange Daily Official List for the ex-dividend date of 15 July 2021 and the four subsequent dealing days.
Further information regarding the scrip dividend alternative offered in respect of the Interim Dividend and the Scrip Dividend Scheme can be found in the Scrip Dividend Circular (the "Scrip Circular") available on the Company's website www.supermarketincomereit.com/dividend-information to view and/or download. The Scrip Circular is also available on the National Storage Mechanism website at data.fca.org.uk/#/nsm/nationalstoragemechanism.
The application deadline for applying for the scrip dividend alternative is 5:00pm (London time) on 30 July 2021.
The Interim Dividend payment date and the date for admission and dealing of the new ordinary shares to be issued pursuant to the scrip dividend alternative is expected to be 20 August 2021.
Below is a video, shot with the investment team of Atrato Group, the advisors behind SUPR, highlighting the Group's investment strategy
VIDEO: Supermarket Income REIT
Supermarket Income REIT Video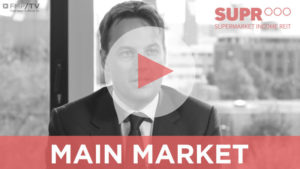 Click here to view Supermarket Income REIT investor relations films