Pure Gold: Q2 Update, 46% increase in gold production
PUREGOLD ANNOUNCES MILESTONE SECOND QUARTER AND PROVIDES UNDERGROUND DRILLING AND 8-ZONE UPDATES AS RAMP-UP NEARS COMPLETION
Pure Gold Mining Inc. (TSX-V:PGM, LSE:PUR) ("PureGold" or the "Company"), is pleased to provide an operations and underground drilling update, including drill results, for the second quarter at its high-grade PureGold Mine in Red Lake, Ontario.
Production highlights for the second quarter include:
Average daily throughput of 509 tpd for the quarter and 577 tpd for the month of June;
Average daily ramp development rate for the Main and East Ramps of 5.2 metres and 4.5 metres per day for the second quarter, respectively, a new quarterly record for the Main Ramp and a 53% increase compared to the first quarter;
A 46% increase in second quarter gold production compared to the first quarter;
Average head grade of 7.0 g/t Au from all stopes mined during the second quarter; and
Average head grade of 5.8 g/t Au for the high-grade portion of the mill feed, which includes all stopes mined plus high-grade development ore, a 51% increase compared to the first quarter and in line with expectations for the period.
Key de-risking milestones achieved in the second quarter include:
Underground drilling successfully confirmed stopes planned for mining in the second half of 2021 and identified new areas with potential to expand mineable inventory beyond known reserves close to existing development, highlights include 15.1 g/t Au over 5.6 metres and 33.1 g/t Au over 2.2 metres from the Main Ramp and 120.8 g/t Au over 1.0 metre and 21.4 over 2.0 metres from the East Ramp;
First ore production from the East Ramp achieved, with the first high-grade stopes from the east side of the mine expected to come online in August;
Ramp development contract awarded to accelerate the Main Ramp development at a projected rate of 6.0 metres/day for the balance of 2021, beginning in July;
Arrival of interstage screens for CIP tanks and trommel screen for the SAG discharge which are currently being installed with completion expected in August, positioning the mill to operate above design capacity in the second half of 2021 and beyond;
Over 4,500 metres of diamond drilling in over 70 drill holes completed to further delineate planned production for the second half of 2021; and
Continued excellent grade reconciliation for stopes mined to date with respect to the Mineral Reserves.
Darin Labrenz, President & CEO of PureGold, commented, "The second quarter was one of achieving critically important milestones and making key investment decisions for the PureGold Mine, balancing both long-term and short-term objectives. As we continue opening up the mine and accelerating the development of our two key haulage ways, we are seeing consistent quarter-over-quarter improvements in all key operating metrics and, importantly, excellent grade reconciliation to our Mineral Reserves. With two active ramps now mining ore, an additional dedicated crew to focus on Main Ramp development beginning in July, and nearly 30,000 tonnes of longhole stopes developed in front of us, we are entering the third quarter in our strongest position ever."
Below is a short interview with CEO Darin Labrenz, filmed in June 2020, in which he outlines the potential of the PureGold mine
Pure Gold Inc Investor Relations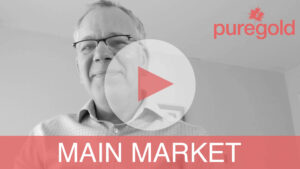 Click here to view Pure Gold Investors Videos