HVPE: Annual Financial Report
Record net asset value ("NAV") per share growth through an unprecedented period
HarbourVest Global Private Equity Limited ("HVPE" or the "Company"), today announces its audited results for the year ended 31 January 2021.
Highlights – Year to 31 January 2021
Increase in NAV per share of 30.4% to $35.97 (31 January 2020: $27.58)

Largest 12-month NAV per share increase in HVPE's 13-year history
Strong rebound in the middle of the year recovered Q1 pandemic-driven declines
Weighting to venture and growth equity investments, in particular technology, a key performance driver
Represents outperformance of the FTSE All World Total Return Index of 4.0% on an annualised basis since inception

Net investor during period

A net $141.4 million cash invested (2020: $16.0 million)
Total of $289.5 million cash distributions received (2020: $308.2 million
Total of $430.9 million capital calls paid (2020: $324.2 million)
Record level of calls and distributions in cash terms from HarbourVest funds in December 2020, following strong investment and exit activity

Successful navigation of COVID-19 environment

Commitment plan re-commenced in Q4 following pause from April 2020
Credit facility $120.0 million drawn at 31 January 2021, with a further $480.0 million available as required

Year-end cash balance of $98.4 million (2020: $130.6 million)
Encouraging trends post period end as global economies begin to reopen

NAV per share of $36.62 at 30 April 2021, a 1.8% increase from 31 January 2021
Cash flows have returned to trend, while the number of liquidity events in the portfolio has increased in recent months
Ed Warner, Chair of HVPE, said:
"I am pleased to report that HVPE's NAV per share increased by 30.4% over 12 months, a record growth figure made even more impressive by the turbulent backdrop. This reflects the expertise of our Investment Manager and the robust nature of HVPE's structure.
"I would like to thank shareholders for their support throughout the pandemic. We now look forward with cautious optimism, confident that HVPE is well-placed to deliver a long-term private markets solution to investors otherwise unable to access the many high-quality and exciting private companies that are our investment focus."
The animated film below provides an overview of the year end results
HVPE Investors Video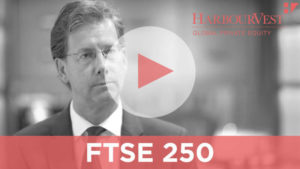 Click here for Harbourvest Investor videos and news