AfriTin: Uis Phase 1 Expansion – DFS Results
AfriTin Mining Limited (AIM: ATM), an African tin mining company with its flagship asset, the Uis Tin Mine ("Uis") in Namibia, is pleased to present a summary of the Definitive Feasibility Study ("DFS") for the expansion of its Phase 1 mining and processing facility (the "Project"), and accompanying Ore Reserve estimate for the V1 and V2 pegmatites at Uis.
Highlights:
DFS confirms the feasibility of expanding the current Phase 1 processing plant, resulting in a 67% increase in tin concentrate production from 720 tonnes per annum to 1,200 tonnes per annum, based on:

Project scope:

DFS includes 2 of the 16 historically mined pegmatites; significant exploration upside remains; and
The DFS is on a tin only basis and currently excludes tantalum and lithium concentrate as potential by-products – these commodities are being investigated by the Company's metallurgical test-work programme.

Robust economics (subject to sensitivities below):

Considering capital cost of this expansion and total future cash flows over the life-of-mine a long-term real tin price of USD20,000 per tonne, long-term real NAD/USD exchange rate of 16.00 and a real WACC of 6.95%;
Project capital of USD5.7 million;
Payback period of 2.4 years;
NPV of USD12.1 million;
IRR of 54%; and
Fully allocated real cash costs of USD16,200 per tonne of contained tin metal.

Low project risk:

Modular expansion of the existing crushing circuit to increase ore throughput by 50% and upgrade of the existing concentrator circuit to increase projected tin recovery to from 60% to 64%; and
Implementation time of 8 months including a 2-week full plant shut down.

Long-term mine life:

An initial Proved and Probable Ore Reserve estimate (JORC, 2012) over the V1 and V2 pegmatites of the Uis Tin Mine totalling 15.6 million tonnes of ore at an average grade of 0.138% tin containing 21,536 tonnes of tin metal; and
18-year mine life.

Project economic analysis compared to spot price – real terms:

Anthony Viljoen, CEO of AfriTin Mining Limited commented:
"Publication of AfriTin's inaugural Definitive Feasibility study marks another significant milestone for the Company and will lead to the completion of the first phase of development of what could potentially be the biggest open cast tin and technology metal deposits in the world.
The DFS confirms the highly attractive economics from a low-cost modular expansion of the current Phase 1 at Uis which can be implemented in eight months. The DFS also coincides with the Company achieving its first full quarter of steady state production at the Phase 1 plant as a global tin prices reach a 10-year high.
The initial JORC (2012)-compliant Ore Reserve estimate over the V1 and V2 pegmatites, validates the long-term feasibility of our flagship operation at the Uis Tin Mine and emphasizes the benefits that the deposit derives from the scalability of the project. Importantly, the reserve only forms a portion of the historically declared reserve, that the Company is in the process of converting into modern JORC compliance standards. We are especially pleased with the robust economics of the study which provide us with an opportunity to substantially increase the revenue and profit margin of the current operation, while importantly de-risking the expansion of the project into the much larger Phase 2 operation that is intended to be 6 to 10 times bigger than the phase 1 operation. While the current estimate only considers tin mineralisation, the Company intends to add the potential by-product minerals of tantalum and lithium oxide in due course. Coupled with the exploration upside of both historically mined and unexploited proximal pegmatites, AfriTin has laid a solid foundation for advancing the Project towards our long-term goal of becoming a leader in the tin and technology metals mining sector."
In the interview below, Anthony Viljoen provides an overview of the business and gives a snapshot of the tin market
AfriTin's Investor Videos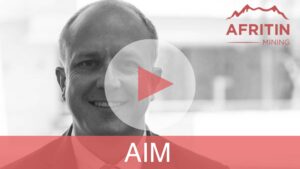 Click here to view AfriTin's Investor Videos