HeiQ: Final Results
HeiQ Plc (LSE:HEIQ), an established global brand in materials and textile innovation that operates in high-growth markets, is pleased to announce strong financial and operational performance for the year ended December 31, 2020.
Financial highlights:
Revenue up 80% to US$50.4 million (2019: US$28.0 million) led by a 16% increase in HeiQ Smart Temp sales, the launch of HeiQ Viroblock, and entry into the medical device market
Gross profit margin is up 7% to 55.6% (2019: 48.6%)
Adjusted EBITDA* increased 384% to US$14.0 million (2019: US$2.9 million)
Profit before tax of US$ 7.0 million (2019: US$ 1.0 million) and profit after tax of US$4.9 million (2019: US$0.7 million)
Basic EPS up 521% to US$ 0.0441 (2019: US$0.0071)
A well-funded balance sheet with a net cash position of US$24.1 million (2019: US$1.1 million) and net current assets of US$43.1 million (2019: US$7.2 million)
Raised £20 million (before expenses) of growth capital through the stock market listing in December 2020
Operational highlights:
Launched five new innovations and added 12 projects with high market potential to the R&D pipeline
Broadened customer base (+124% number of invoiced customers vs. 2019) and on-boarded 650 new brands for co-branding (of which 150 already launched in 2020)
Substantially shortened customer on-boarding lead-time from the typical 18-24 months to as short as three months
Innovation and rapid go-to-market capability enabled the launch of HeiQ Viroblock in March 2020, creating a new antiviral textile market and enlarging the US$10 billion antimicrobials textile market
Entered three new markets: medical, healthcare and consumer goods
Entered into eight royalty contracts, illustrating the strong perceived value of HeiQ's ingredient brands
Significantly strengthened brand equity with enhanced media presence with total 7610 times of media mentioning +280% vs. 2019
Expanded sales network with nine new distributors and six new sales staff to support increased demand
Launched consumer brand and established direct-to-consumer e-commerce channel which achieved US$1 million sales in eight months
Continued investment into IP portfolio, people, company structure, corporate processes and systems to capitalise on the significant market opportunities available
Concluded the acquisition of HeiQ Medica to in-source medical device development competence and manufacturing know-how
Post period-end highlights:
Acquisition of 51% of Chrisal, a profitable, high-margin and leading industrial biotech business. Chrisal provides HeiQ with an established position in the US$50 billion probiotics market, 120 products including patented synbiotic products, manufacturing capability for functional consumer goods and access to new markets. Chrisal today serves 40 hospitals with its clinically trialed synbiotic cleaner proven to reduce infection levels by 70-80%.
HeiQ has invested in talent to further develop its novel graphene technology in line with its IPO plans
Filed five new patent applications
New contract wins expanded impact of HeiQ innovation beyond textiles and into four new markets
First-quarter trading in line with expectations and above same period previous year and the preceding quarter
Carlo Centonze, co-founder and CEO, HeiQ plc, said:
"2020 saw us make rapid strides towards our goal of becoming a leading materials innovation company beyond textiles. As well as strong financial performance, we have paved the way for additional future success. The rapid growth experienced in 2020 proves that we have developed the right strategy and business model to achieve our ambitions over that past 16 years. We continue to see strong demand for our existing technologies and have expanded into new markets and industries, including medical, healthcare and consumer goods. Our enlarged global footprint and market presence means our innovations are benefiting more people and improving more people's lives, Furthermore, despite challenges such as the extreme weather in the US, the Suez blockage, and lockdowns, our first quarter performance is in line with expectations. This performance once again demonstrates the resilience of our business and the benefits of having a diversified and well-balanced product portfolio.
"2021 will see us building on the momentum created in 2020 both organically, and through M&A with companies that we have been working with for many years and where it makes sense. We will enter additional industries and markets, launch disruptive innovations, strengthen our differentiating capabilities and establish new revenue streams. Our recent HeiQ Viroblock contract wins with leading industrial laundry, paint, coatings and gym customers, as well as our acquisitions in the medical device and industrial biotech sectors, attest to our vision to grow beyond textiles. This is an exciting time for HeiQ, and I look forward to keeping shareholders up to date with our progress."
*Adjusted EBITDA = Operating Profit + 1) Depreciation + 2) Amortization + 3) Share based payments.
Note on publication of Annual Report:
Further to the Financial Conduct Authority's (FCA) policy statement issued on January 27, 2021, pursuant to which the financial reporting deadline for listed companies has been extended by two months, the Company confirms that it intends to publish its annual financial report for the year ended December 31, 2020 ("Annual Report") in accordance with the reporting extension in early May 2021. A further announcement will be made in due course upon publication.
Below is an interview with HeiQ's founders, filmed at its IPO in December 2020
HeiQ Investor Videos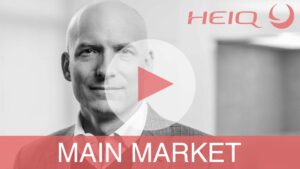 Click here to view HeiQ Investor Relations Videos