AfriTin: Quarterly Production Update
Quarterly Production Update
Target production exceeded at Uis Tin Mine
AfriTin Mining Limited (AIM: ATM), an African tin mining company with its flagship asset, the Uis Tin Mine ("Uis") in Namibia, is pleased to provide its inaugural quarterly production update for the twelve-month period ended 29 February 2021 (the "2021 Financial Year").
Highlights:
Tin concentrate production totalled 194.5 tonnes for Q4, representing a 28% quarterly increase compared with the previous quarter, and exceeding the 180 tonnes production target; and
Total production for the 2021 Financial Year amounted to 473 tonnes of tin concentrate.
The Company is pleased to report that Uis successfully maintained a production level above its steady state target during Q4 of the 2021 Financial Year. During the quarter under review, Uis surpassed the target of 180 tonnes of tin concentrate to produce 194.5 tonnes (containing 126.2 tonnes of tin metal), a 28% improvement on the previous quarter. The production level achieved in Q4 represents approximately 108% of the Stage I quarterly target in terms of tin concentrate produced and 117% of the Stage I quarterly target in terms of tin contained in concentrate. The quarterly production performance for the 2021 financial year is tabulated below.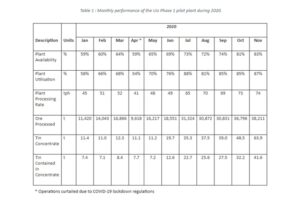 Tin concentrate production for the 2021 Financial Year totalled 473 tonnes, for a total of 311.7 tonnes of contained tin metal. The Company continues to achieve an average payability of 94% (referring to the percentage of the LME tin price realised for the tin contained in concentrate). The concentrate continues to be largely free of deleterious elements, resulting in a high grade, clean concentrate.
AfriTin is committed to further optimisation and expansion of the operation. The Company plans to develop a modular expansion of the pilot plant, and production of by-products in the form of tantalum and lithium concentrates. The Company is currently conducting test work to investigate the feasibility of magnetically separating tantalum minerals from the tin concentrate and will update the market with the results of this test work in due course.
The health, safety, and well-being of AfriTin's employees, contractors and the local community are of utmost importance to the Company. As previously announced, strict COVID-19 mitigation measures remain implemented across the Company and all necessary steps have been taken to safeguard the workforce. It is a credit to the workforce at site that these measures have been successfully implemented without having a detrimental impact on production at the mine.
Anthony Viljoen, CEO of AfriTin Mining Limited commented:
"After reaching nameplate capacity in November 2020, the team at AfriTin continues to optimise and develop our flagship asset, the Uis Tin Mine. We are delighted to release our first quarterly production update and demonstrate that the Company is operating 108% beyond our production targets for Stage I. Our work is far from complete as we look to incrementally expand our processing plant and bring additional concentrate streams online. Our positive production results have coincided with a strong tin price. The LME three-month tin price hit its 10-year high in February 2021 after unprecedented turbulence, triggered by low stocks with no sign of relief from a constrained physical supply chain."
"The global pandemic continues to affect businesses worldwide, yet by implementing all necessary safety protocols, we have minimised its impact on our production; I commend the teams working on-site for all we have achieved in this time. Our plan remains to become a large-scale, multi-stream, mining and processing facility, and we look forward to sharing these developments with the market."
In the interview below, Anthony Viljoen provides an overview of the business and gives a snapshot of the tin market
AfriTin's Investor Videos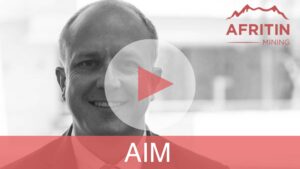 Click here to view AfriTin's Investor Videos