Supermarket Income REIT ups stake in portfolio of Sainsbury's stores
Supermarket Income REIT plc has increased its stake in one of the UK's largest portfolios of supermarket properties from an Aviva Investors managed fund.
The 25.5% beneficial interest has been acquired through the Company's existing 50:50 JV with British Airways Pension Trustees Limited  The purchase price is £115.0 million thus SUPR's contribution to the JV to fund the Acquisition is £57.5 million.
VIDEO: Supermarket Income REIT
The JV acquired its initial 25.5% beneficial interest from British Land Plc in May 2020. Following this second acquisition, the JV's ownership in the Portfolio is 51.0%. The remaining 49.0% beneficial interest is held by Sainsbury's plc.
The Directors of the Company (the "Board") reiterate that the strategic rationale remains compelling for this high quality portfolio of predominantly omnichannel supermarkets. The portfolio offers strong property fundamentals and scope for progressive valuation growth in excess of the Company's targeted annualised total shareholder return.
The Portfolio was originally created through two sale and leaseback transactions by Sainsbury's in 2000 and consists of the freehold interest in 26 Sainsbury's supermarkets. It is a geographically diverse portfolio of stores with a London and south east bias. Further details on the Portfolio and transaction structure can be found below and on the Company's website at: https://www.supermarketincomereit.com/jointventure
Nick Hewson, Chairman of Supermarket Income REIT, said:
"This acquisition increases the size of our investment in this high-quality Sainsbury's property portfolio through our joint venture with British Airways Pension Trustees Limited. We will work closely with our tenant and co-owner, Sainsbury's, to deliver a long term occupational solution for them."
Supermarket Income REIT Video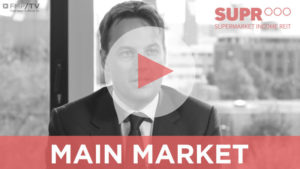 Click here to view Supermarket Income REIT investor relations films