Wheaton Precious Metals: Exceeds 2020 Production Guidance Midpoint
Wheaton Precious Metals Exceeds 2020 Production Guidance Midpoint and Provides 2021 and Long Term Outlook
"The benefits and value of a high-quality portfolio of low-cost assets have never been more apparent than in 2020. Despite the numerous challenges posed by the pandemic, our portfolio demonstrated its resiliency with production coming in at the higher end of our guidance range yet again," said Randy Smallwood, Wheaton's President and Chief Executive Officer. "We look forward to continued organic growth from our existing sustainable asset base over the next ten years and, given the strong tenure of our reserve and resource base, are introducing ten-year production guidance for the first time."
Wheaton Precious Metals™ Corp. ("Wheaton" or the "Company") will provide full production and financial details with the release of its 2020 fourth quarter and full year results on Thursday, March 11, 2021.
2020 Attributable Production and Sales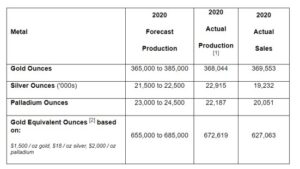 In 2020, gold equivalent production exceeded the midpoint of guidance primarily as a result of stronger than expected production from Peñasquito and Antamina, partially offset by weaker production from Salobo, Constancia and Stillwater. All operations were temporarily impacted by COVID-19 to some extent, with some more than others.
2021 and Long-Term Production Outlook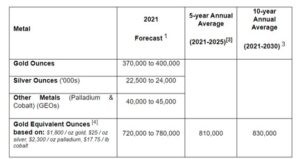 In 2021, gold production is forecast to increase, mainly driven by growth at Salobo, San Dimas and Constancia. Silver production is forecast to increase as additional ounces from Cozamin and Keno Hill are expected to be partially offset by slight decreases at Peñasquito due to expected mine sequencing. At Constancia, Hudbay Minerals Inc. ("Hudbay") announced that it has completed the Consulta Previa process in accordance with Peruvian law and has been granted the final permit for the development and operation of the Pampacancha deposit, which is expected to start production in 2021. P alladium production is expected to remain stable in 2021 as per Sibanye-Stillwater's prior announcement that the Blitz project at Stillwater is expected to experience a two-year delay due to COVID-19. Beginning January 1, 2021, Wheaton is eligible to start receiving cobalt production from Voisey's Bay as per the precious metals purchase agreement with Vale.
Average production over the next five years is expected to increase primarily due to continued production growth from Salobo, Constancia, Peñasquito and Stillwater as well as incremental ounces from the Marmato, Cozamin and Voisey's Bay streams. At Peñasquito , steady production is expected from 2023-2025 following a stripping campaign of the Chile Colorado pit. At Constancia, production from the Pampacancha deposit is included in Wheaton's five-year production average beginning later in 2021. Palladium and gold production from Stillwater is expected to increase with the continued ramp up of the Blitz project which is expected to reach full capacity in 2024. The expansion at the Salobo mine, which will increase mill throughput capacity by 50%, is also expected to begin contributing to gold production in 2023. Hudbay's Rosemont project is not included in Wheaton's five-year guidance but is included in the ten-year forecast. And lastly, although Barrick Gold Corp. continues to advance a comprehensive review of the Pascua Lama project, Wheaton does not include any production from the project in its estimated average ten-year production guidance.
Fourth Quarter and Full Year 2020 Results
Wheaton will release its 2020 fourth quarter and full year results on Thursday March 11, 2021, after market close.
Wheaton Precious Metal's Investor Videos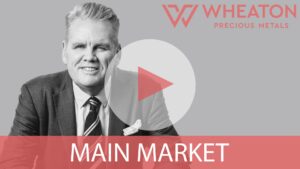 Click here to view Wheaton's Investor Videos