Trident Royalties: Royalty Portfolio Acquisition over Development-Stage Copper Project
Trident Royalties Plc ("Trident" or the "Company") (AIM: TRR, FSX: 5KV) is pleased to announce that its wholly-owned subsidiary TRR Services UK Ltd has entered into a binding, conditional agreement with Bellatrix Ltd, a wholly-owned subsidiary of Orion Resource Partners ("Orion" or the "Seller") to acquire a portfolio of three existing royalties (the "Royalties") over the Pukaqaqa Copper Project ("Pukaqaqa") through the acquisition of two of the Royalties and the acquisition of Tiomin Peru S.A.C, a Peruvian company which owns the third ("Tiomin"). Pukaqaqa is majority-owned and operated by NYSE- and TSX-listed Nexa Resources ("Nexa"). The Royalties and Tiomin are being acquired for a total consideration of approximately US$3,000,000 of new ordinary shares in Trident (the "Transaction").
HIGHLIGHTS
A large-scale project advancing towards development and operated by an established South American mid-tier miner
Nexa Resources (C$1.35 billion market cap) is a South America-focused mid-tier producer with five operating base metals mines (plus an additional mine currently under construction) and three operating smelters in Peru and Brazil;
Pukaqaqa is a cornerstone project within Nexa´s growth pipeline and comprises 34 concessions covering 11,125.87 ha located in the Huancavelica region of Peru, an established mining district;
In its 2019 Annual Report, Nexa noted Pukaqaqa's project status as "ongoing pre-feasibility study" with the first stage of the pre-feasibility study completed and "a new phase of metallurgical tests" to be completed in 2020 1 & 2;
Nexa has allocated a total of US$16 million towards advancing the project over the last three years, a significant sum relative to commensurate junior-led projects 1 & 2;
The 2017, CIM compliant 3, Mineral Resource Estimate includes a Measured and Indicated Resource of 309 million tonnes at 0.41% Cu (approximately 1.26 million tonnes of contained copper), with an additional Inferred Resource of 40.1 million tonnes at 0.34% Cu for 136,340 tonnes contained copper 2;
The most recent technical report contemplates an open-pit mining operation to feed a 30,000 tonne-per-day processing plant to produce copper and molybdenum concentrates over a 19-year mine life 2;
Pukaqaqa consists of a large scale Cu-Au skarn-type deposit, associated with an anticline hosted sub-volcanic intrusive. Project construction capex of skarn-type deposits is typically much lower than commensurate scale porphyry deposits;
The morphology of the deposit with a sub-horizontal, shallow dipping, blanket of near-surface mineralisation and higher grade breccia-hosted zones, offers the potential for large scale low-stripping ratio open-pit mining, with free-digging potential, subject to further technical studies; and
Further, exploration upside is offered both in the wider licence holding and through possible mineralisation extensions along strike and down-dip of the current Resource. The potential for underlying, porphyry style mineralisation below the project has also yet to be drill tested.
All-equity transaction adds a significant asset to the portfolio while preserving cash and establishes a shareholding in Trident by an industry-leader in mining royalties & streams
The Transaction includes the acquisition of three royalties covering the entirety of Pukaqaqa, with significant additional milestone payments of US$8 million payable to Trident to be made in the first two years of commercial production;
Relative to recent royalty precedent transactions over similar size and stage assets, Trident is achieving a very attractive entry valuation which would see an excess of the Transaction consideration recovered from the first milestone payment alone (US$4 million payable upon commencement of commercial production), to be followed by an additional US$4 million milestone payment in the second year of commercial production, plus uncapped life-of-mine royalty payments;
The proposed acquisition is Trident's first all-equity transaction, demonstrating an ability to continue to build the portfolio while preserving balance sheet cash;
Orion, a global alternative investment management firm with approximately US$6.2 billion under management (as of 31 March 2020), is a leader in the royalty and streaming space. Notable transactions in 2020 include the cornerstone asset vend-in to support the launch of Nomad Royalty Company (TSX-listed, C$593 million market cap) and the US$1.3 billion transaction with Occidental Petroleum Corporation to establish Sweetwater Royalties; and
Upon completion of the transaction, Orion will become a 6.1% shareholder in Trident.
THE ROYALTIES
The three royalties that are to be acquired over Pukaqaqa in connection with the Transaction include the Vaaldiam Royalty (which is held and owned by Tiomin), the Pukaqaqa Norte Royalty, and the Pukaqaqa Sur Royalty:
1. Vaaldiam Royalty: A sliding scale NSR royalty of 1.00% (if the quarterly average reference copper price is US$3.00/lb or less), and 2.00% (if the quarterly average reference copper price is greater than US$3.00/lb). The Vaaldiam Royalty is over the entire mining property, plus a 15km area of interest. In addition, there are a total of US$8 million in milestone payments delivered early in the mine life, with US$4 million upon commencement of commercial production and an additional US$4 million upon the second year of commercial production;
2. Pukaqaqa Norte Royalty: A 1.00% NSR royalty covering concessions in which the bulk of the contemplated open pit will be located; and
3. Pukaqaqa Sur Royalty: A 0.50%-1.00% NSR royalty (depending on the specific concession) covering concessions with promising exploration potential in the south-eastern area of Pukaqaqa, which can be repurchased at any time for US$350,000.
Adam Davidson, Chief Executive Officer of Trident commented:
"We are very pleased to announce this all-share transaction with Orion. The royalties cover a large-scale asset which is being actively advanced by an established regional operator that, once in production, will generate a significant revenue stream for nearly two decades based on the most recent technical study. On the current resource, at a processing rate of 30,000 tonnes-per-day we believe Pukaqaqa has the potential to produce around 35,000 tonnes of copper per year, along with potential molybdenum, gold, and silver credits.
"Whilst not losing sight of our priority to acquire cash generative royalties, as we plan for Trident's long-term growth, acquiring attractive development stage royalties over significant assets such as this has the potential to catapult a royalty company from junior status to that of mid-tier / major. I would also add that it was a pleasure transacting with Orion, and we look forward to further engagement in the future. It is worth noting that Trident's transaction pace since our June 2020 listing continues to exceed my expectations and demonstrates the robustness of our pipeline. I look forward to reporting further on our progress."
COMPLETION OF THE TRANSACTION AND CONSIDERATION
The Royalties and Tiomin are being acquired for a total consideration of approximately US$3,000,000 to be satisfied by the issuance of 6,878,027 new Trident ordinary shares (the "Consideration Shares") on completion of the Transaction. The Consideration Shares will be issued at a price of 32.0314p, being the volume weighted average price of Trident's shares over the ten trading days prior to date of signing the sale agreement. The Consideration Shares will be subject to a six-month lock-in from their date of issue, subject to customary exclusions and to satisfy any tax liability of Bellatrix on the sale and any warranty claims.
Completion of the Transaction is conditional amongst other things upon the issue or deemed issue of a tax certificate by the Peruvian tax authorities in respect of the sale and will then occur on the admission of the Consideration Shares to trading on AIM ("Admission"). If completion of the transaction has not occurred within 6 months the agreement will terminate unless extended by the parties.
Trident Royalty Investors Videos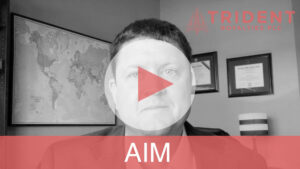 Click here to view Trident Royalty's Investor Videos