Bushveld Minerals: Partial repayment of Duferco convertible loan note
Partial repayment of Duferco convertible loan note and Total Voting Rights
Bushveld Minerals Limited (AIM: BMN), the AIM quoted, integrated primary vanadium producer and energy storage provider, with ownership of high-grade assets in South Africa, is pleased to announce the partial repayment of the US$23 million unsecured convertible loan note held by Duferco Participations Holding S.A. ("Duferco").
On 30 September 2020, the Company announced that Duferco, the previous owner of Vanchem, had agreed to accept the partial early repayment of US$11.5 million of their US$23 million convertible loan notes, originally issued in accordance with the terms of the acquisition of Bushveld Vanchem announced on 23 October 2019.
As the Company has drawn down the funds under the US$30 million Production Financing Agreement and the US$35 million Convertible Loan Notes with Orion Mine Finance, it has now repaid US$5 million of the Duferco loan notes, plus interest of US$1.28 million, in cash and satisfied the balance of US$6.5 million by the issue of 37,115,210 new Bushveld shares, using a conversion price of 12.97p, which is a 5 per cent discount to the prevailing 10-day volume weighted average Bushveld Minerals share price leading up to conversion.
Duferco continues to hold a total of US$11.5 million convertible loan notes, which are due for repayment on 8 November 2021.
Application will be made for the admission of these new Bushveld shares to trading on AIM ("Admission"), and it is expected that Admission will occur at 8.00 a.m. on 24 December 2020.
Following Admission, there will be a total of 1,190,757,892 Bushveld ordinary shares in issue, 670,000 of which are held in treasury. Shareholders should use the figure of 1,190,087,892 as the denominator for the calculations by which they will determine if they are required to notify their interest in, or a change to their interest in the Company, under the FCA's Disclosure and Transparency Rules.
Bushveld Investors Videos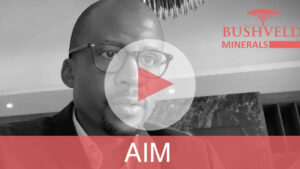 Click here for more Bushveld investor videos