iomart Group: Half-year Report
Continued resilience, benefiting from high levels of recurring revenue and cash generation
iomart (AIM:IOM), the cloud computing company, is pleased to report its consolidated half yearly results for the period ended 30 September 2020 (H1 2021).
FINANCIAL HIGHLIGHTS
Group benefiting from strong levels of recurring revenues(1)
Revenue up by 2% to £56.3m. Contribution from the two smaller acquisitions made in the final month of the last financial year offsets some small decline in organic revenues, reflecting the impact of Covid-19 on discretionary on-premise projects together with a reduction in revenues from some legacy areas
Order levels from existing managed cloud services customers consistent with H1 2020
Decrease in adjusted EBITDA(2) margin reflects, as expected, the greater uptake of lower-margin but strategically valuable managed cloud solutions. Margin expected to benefit in second half from cost base adjustments and integration of recently acquired businesses
Adjusted profit before tax(3) and adjusted diluted EPS(4) reflect higher depreciation and software amortisation charges
Cash generated from operations in the period increased with retention of the consistently strong profit to cash conversion resulting in £20.1m of closing cash
Period end net debt of £58.1m, comfortable at 1.36 times annualised EBITDA(5)
Interim dividend maintained at 2.6 pence per share
OPERATIONAL HIGHLIGHTS
Successful launch of iomart Managed Security Service ("iMSS"), with first new customers secured
Completion of >£1m transformational IT consultancy project for local government customer, supporting deployment of modern workplace technology
Planning consent agreed for investment in our London datacentre, in turn reducing our environmental impact
Investment in operational team to continue delivering first class service to customers
Smooth transition to new CEO, Reece Donovan, appointed post period-end
Strategy refresh to "one iomart" commenced with simplified structure and value proposition
OUTLOOK
Increase in new business discussions in recent months, indicating returning confidence in longer-term IT and digital transformation projects
Revenue and profit margins expected to benefit in H2 FY2021 from growth from existing customers and operational efficiencies
Statutory Equivalents
A full reconciliation between adjusted and statutory profit before tax is contained within this statement. The largest item is the consistent add back of the non-cash amortisation of acquired intangible assets. The largest variance, period on period, is a £0.4m lower gain on the revaluation of contingent consideration relating to historic acquisitions.
Reece Donovan, CEO commented,
"Whilst we have exciting plans for the future of iomart, the focus in the first half of the year had to be the protection of our people, customers and stakeholders in the face of Covid-19. I am pleased to report such a resilient set of results and would like to thank our team for their continued efforts and commitment. iomart's business model has stood us in good stead and despite the global slowdown in corporate activity, we continue to perform well.
"The previous investments into our sales and operational teams provide us with a strong foundation to accelerate growth once companies regain the economic confidence to make infrastructure transformation decisions. We have no doubt the transition to the cloud will continue for many years to come and that we can play a considerable role in being the enablers of that journey for our customers. We remain confident in the long-term prospects for iomart."
(1) Recurring revenue is the revenue that repeats either under long-term contractual arrangement or on a rolling basis by predictable customer habit.
(2) Throughout this statement adjusted EBITDA is earnings before interest, tax, depreciation and amortisation (EBITDA) before share based payment charges, acquisition costs and gain on revaluation of contingent consideration. Throughout this statement acquisition costs are defined as acquisition related costs and non-recurring acquisition integration costs.
(3) Throughout this statement adjusted profit before tax is profit before tax, amortisation charges on acquired intangible assets, share based payment charges, acquisition costs and gain on revaluation of contingent consideration.
(4) Throughout this statement adjusted earnings per share is earnings per share before amortisation charges on acquired intangible assets, share based payment charges, acquisition costs, gain on revaluation of contingent consideration and the taxation effect of these.
(5) Annualised EBITDA is the last 12 months of EBITDA for the period ended 30 September 2020.
iomart Half Year Results Interview
iomart Investors Videos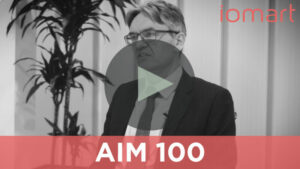 Click here to view iomart investor videos and news