JLEN: Interim Results
Announcement of half-year results for the period to 30 September 2020
The Directors of JLEN Environmental Assets Group Limited (the "Company" or "JLEN") are pleased to announce the Company's half-year results to 30 September 2020.
Financial highlights
Portfolio valuation as at 30 September 2020 of £552.9m (31 March 2020: £537.1m)
NAV per ordinary share of 96.1 pence as at 30 September 2020 (31 March 2020: 97.5 pence), reduction primarily driven by the effect of the reduction in long-term electricity and gas price forecasts
Further interim dividend of 1.69 pence per share declared making total dividend declared for the six months to 30 September 2020 of 3.38 pence, in line with the target set out in the 2020 Annual Report. Cash dividend cover of 1.1 times on dividends declared during the period
Share price total return for the period since IPO of 69.8% (8.5% annualised)
Portfolio highlights
Two acquisitions completed this period in the anaerobic digestion (AD) and Hydropower sectors, increasing the Company's diversification
Diversified portfolio now 34% wind, 27% AD, 22% Solar, 15% waste and wastewater and 2% Hydro and battery by value
Operating performance of the portfolio during the six-month period was strong across most of the portfolio, with exceptions mainly driven by the Covid-19 pandemic or grid operator maintenance or constraints
Wind, Solar, AD and Hydro portfolios generation all above budget for the six-month period
Bio Collectors food waste project operating well but gas production negatively impacted by Covid-19 pandemic as waste volumes fall
Other highlights
Joined the FTSE 250 in June 2020
Strong pipeline of assets for further growth
Dividend Timetable
Ex-dividend date 3 December 2020
Record date 4 December 2020
Payment date 30 December 2020
Richard Morse, Chairman of JLEN, said:
"JLEN's portfolio has operated well for the period under review and the market outlook for the Company is positive. This is despite the wider challenges brought on by the global pandemic. The infrastructure and renewables markets remain favourable in both context of global and UK government policy and financial support for decarbonisation initiatives. Our acquisition pipeline presents further scope for diversification, following this decarbonisation agenda."
Half-year report
A copy of the half-year report has been submitted to the National Storage Mechanism and will shortly be available at www.morningstar.co.uk/uk/NSM. The annual report will also be available on the Company's website at www.jlen.com where further information on JLEN can be found.
Results Interview
JLEN Investor Videos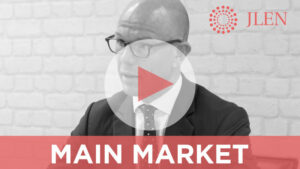 Click here to view JLEN Investor Relations Videos