Calnex: Interim Results
Calnex Solutions plc (AIM: CLX) provides test and measurement solutions for the global telecommunications sector and is pleased to announce its unaudited results for the six months ended 30 September 2020 ("H1 FY21" or the "Period").
Strong order inflow and revenue growth, reflecting continued strong demand across all the Group's product offerings.
Profitability increased as a result of higher revenue and benefited from reduced travel and events costs as a result of COVID-19.
Positive cash generation in the Period as a result of the strong trading performance, supplemented by receipt of IPO proceeds post Period end.
Successful fundraise and admission to AIM in October 2020, raising £22.5m in total funds, resulting in net funds of £5m for the business and providing the platform for future growth.
The outstanding debt of £1.9m was fully repaid on 6 October 2020 and the Company is now debt-free. A £3m Revolving Credit Facility with Barclays is now in place, currently undrawn.
Operational Highlights
Ongoing transition of the telecoms industry to 5G and the growth of cloud computing, continue to drive a need for high value test instrumentation.
Continued high levels of revenue from repeat customers, supplemented by growth in customer numbers.
Investment in R&D continues across all three product families, resulting in platform enhancements due for release in H2 FY21 and FY22.
Expansion of Calnex's Business Development and R&D teams accelerated, to support the growth of the Company's product offering and capitalise on available opportunities.
Supply chain has proven resilient during the period of COVID-19 related uncertainty, with no interruption to the availability of components or to the operations of our manufacturing partner. All customer shipments have been made without interruption.
Outlook
Favourable telecoms market conditions continue into H2 FY21.
The exponential growth of data creation and migration of industries to cloud computing, along with the long-term transition of the telecoms industry to 5G, continue to drive a need for new test instrumentation, presenting the Company with significant, long-term growth opportunities.
With the strong growth in revenue from FY20 continuing throughout FY21 to date, and with order intake strong, the Board anticipates that the Company's financial performance for FY21 will be ahead of current market expectations and that revenue and adjusted profit before tax in the second half of the year will be broadly in line with H1 FY21.
Tommy Cook, Chief Executive Officer and founder of Calnex, said:
"We are delighted to report on another strong period of trading, delivered in the lead up to our IPO on AIM, in which we experienced continued strong demand across all our product offerings. Our successful IPO, completed in early October, has provided us with the springboard to execute on our growth strategy. The strength of our relationships within the telecoms sector, breadth of customer base and established market position, provide us with a strong platform for future growth. We will continue to invest in business development and R&D to capitalise on the opportunities arising from the evolution of the telecoms market and look to the future with confidence. "
1 EBITDA including R&D amortisation, adjusted to exclude discontinued operations, IPO costs and share based payments
2 Adjusted to exclude discontinued operations, IPO costs and share based payments
3 Adjusted to exclude discontinued operations, IPO costs and share based payments and the tax effect of these adjustments
4 The weighted average number of shares in the EPS calculation at note 10 reflects a position as though the total number of Ordinary Shares of 60,024,103 (and outstanding share options and warrants of 14,975,897) were in issue throughout both half-year reporting periods and the year ended 31 March 2020. This retrospective treatment for the H1 FY20 and FY20 comparatives is required because there was no corresponding change in the Company's economic resources as a result of the share capital reorganisation which took place in September 2020.
VIDEO: Calnex Solutions
Calnex Solutions Video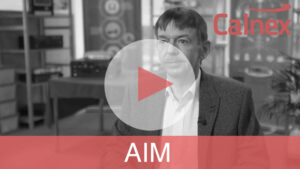 Click here to view Calnex Solutions investor relations films