Altus Strategies: US$107m NPV for Diba Gold Project
Altus Strategies Plc (AIM: ALS, TSX-V: ALTS, OTCQX: ALTUF) announces a significant increase to the Net Present Value ("NPV") generated by an update to the Preliminary Economic Assessment ("PEA") on its 100% owned Diba gold project ("Diba") in western Mali ("Mali"). The PEA has been updated to incorporate the significant increase in modelled oxide gold recoveries (from 80% to 95%), in line with the results of the metallurgical testwork undertaken on Diba drill core, as announced by the Company on 28 October 2020.
Highlights:
Significant 32% increase in NPV to US$107 million (after-tax) at Diba gold project in Mali
PEA for an open pit oxide gold mine indicates strong cashflow and rapid payback
Project economics applying a 10% discount rate and US$1,500/oz gold price:

Pre-tax NPV of US$152 million with payback of 5.5 months
After-tax NPV of US$107 million with payback of 6.1 months

After-tax NPV of US$140.2 million at a 10% discount rate and US$1,800/oz gold price
Updated PEA applies 95% oxide recovery for heap leach compared to previous 80%
3.25 year mine life with average annual production of 57,000 ounces ("oz") of gold ("Au") and low strip ratio of 1:1.37
Diba hosts a shallow dipping near-surface gold deposit with a Mineral Resource Estimate ("MRE") comprising:

4,834,000 tonnes at 1.39 g/t Au for 217,000 oz in the Indicated category
5,479,000 tonnes at 1.06 g/t Au for 187,000 oz in the Inferred category

Diba is strategically located in a world-famous gold belt that hosts numerous open pit mines
10,000m RC drill programme underway on potential resource expansion and new targets
Steven Poulton, Chief Executive of Altus, commented:
"The updated PEA generates an impressive US$107 million after-tax NPV10 for just the oxide portion of the Diba gold project using a highly conservative US$1,500 per ounce gold price. The NPV10 increases to US$140 million at a US$1,800 per ounce gold price. This significant 32% increase in the NPV from the previous PEA (dated 22 July 2020) is a product of increasing the modelled oxide gold recoveries from 80% to 95%, in line with the results of the recently announced metallurgical testwork undertaken on Diba core. The PEA envisages a simple low-cost and low-strip ratio open-pit gold mine using standard heap-leach processing.
"We have recently announced the commencement of a 10,000m RC drilling programme at Diba, designed to test the potential for additional resource ounces along strike and down dip of the current deposit, as well as five priority targets within 3km of Diba hill. Initial results from this programme are expected to be available in the coming weeks and will be used to update the current MRE and PEA studies. We look forward to updating shareholders on progress from this drilling programme in due course."
Updated Preliminary Economic Assessment
The updated PEA describes the potential technical and economic viability of establishing a conventional open-pit gold mine for the Diba project. The updated PEA technical report has been prepared in accordance with National Instrument 43-101 Standards of Disclosure for Mineral Projects of the Canadian Securities Administrators ("NI 43-101") by independent consulting firm Mining Plus UK Ltd ("Mining Plus") of Bristol, United Kingdom. The PEA will be filed on SEDAR at www.sedar.com and on the Company's website at www.altus-strategies.com, shortly after the issuance of this news release. A summary of the economics is provided in Table 1 below.
Table 1: Summary of Economics (US$1,500/oz base case)
Pre-Tax NPV at 10% discount rate* – US$152.17M
After-Tax NPV – US$107.1M
Pre-Tax Internal Rate of Return ("IRR") – 1,176%
After-Tax IRR – 715%
Life of Mine ("LOM") average gold price – US$1,500/oz
Average All In Sustaining Costs ("AISC") / year – US$544oz
Throughput – 1.5Mtpa**
Gold recovery (heap leach) – 95%
Pre-production Capital Expenditure ("CAPEX") – US$20M
Strip ratio – 1.37:1***
Annual gold production – 57,000 oz
Operating cashflow – US$198M
After-Tax payback – 6.1 months
Average grade of mined resource – 1.33 g/t Au
Life of Mine – 39 months
*Includes deduction of 3% Net Smelter Return royalty to Mali Government
**Million tonnes per annum
***Strip ratio is defined as tonnes of waste per tonne of PMI.
For further information you are invited to visit the Company's website www.altus-strategies.com
Altus investor videos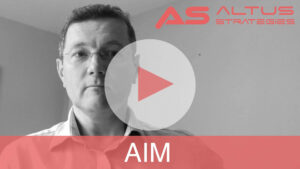 Click here to view LON: ALS videos