Altus Strategies commences drilling at Diba gold project in Mali
Drilling Underway at Diba Gold Project, Western Mali
Altus Strategies Plc (AIM: ALS, TSX-V: ALTS, OTCQX: ALTUF) announces the commencement of a 10,000m Reverse Circulation ("RC") drilling programme at its 100% owned Diba gold project ("Diba" or the "Project") located in western Mali.
Highlights:
10,000m RC drilling programme underway at the Diba gold project in western Mali
Programme to test resource expansion potential as well as five further priority prospects
Diba hosts a shallow dipping near-surface gold deposit (the "Diba Deposit") with a Mineral Resource Estimate ("MRE") comprising:

4,834,000 tonnes at 1.39 g/t Au for 217,000 ounces in the Indicated category
5,479,000 tonnes at 1.06 g/t Au for 187,000 ounces in the Inferred category

Preliminary Economic Assessment ("PEA") for an open pit gold mine to be updated
Current PEA generates a US$81M (post-tax) NPV10 at a gold price of US$1,500/oz
Diba is strategically located in a world famous gold belt that hosts numerous open pit mines
Steven Poulton, Chief Executive of Altus, commented:
"We are pleased to announce the commencement of a significant drilling programme at our 100% owned Diba gold project in western Mali. Approximately 10,000m of RC drilling is planned, with the programme designed to test the potential for additional resources along strike and down dip of the current mineral resource, as well as the potential of five priority targets, each located within 3km of the current resource. The results from this programme are expected to be available in the coming weeks and will be used to update the existing MRE and PEA studies. We look forward to updating shareholders on progress from this programme in due course."
Diba Project: Drilling Programme
The planned drilling programme will be undertaken by Capital Drilling Limited and comprise 120 holes for approximately 10,000m. A multipurpose drill rig, capable of both RC and Diamond Drilling ("DD") methods will be employed. Approximately 3,600m will be drilled into and around the Diba Deposit, testing the resource potential down dip and along strike, as well as infilling areas to increase the resource confidence. In addition approximately 6,400 metres will be drilled to test five priority prospects located within 3km of the Diba Deposit. These targets comprise:
Target 1: Diba Southwest
The Diba Southwest prospect is located 1.2km southwest and along strike of the Diba Deposit. The prospect is defined by a northeast striking 1.2km long discontinuous gold in soil anomaly with a series of discretely anomalous termite mound samples above 20ppb Au. The anomaly occurs along the flank of a ferricrete ridge, which extends for a further 1.5km to the southwest and is coincident with a geophysical VTEM anomaly.
Target 2: Diba Northwest
The Diba Northwest prospect extends for 1.85km northwest from the Diba Deposit. The prospect is defined by a northwest striking 2.6km2 gold in soil anomaly coincident with a VTEM low anomaly. Historic AC drilling over the prospect tested the anomaly to an average vertical depth of 12.7m, with a number of holes terminating in gold mineralisation (>0.5 g/t Au) within the oxide zone.
Target 3: Diba East
The Diba East prospect is located immediately east of the Diba Deposit. The prospect is defined by a 2km2 area northeast striking VTEM low anomaly which is sub-parallel to the strike of the Diba Deposit and Diba Southwest prospect. Historic air core and reverse circulation drilling intersected anomalous gold in the oxide zone, including 0.5 g/t Au over 12.0m from 28.50m (down the hole).
Target 4: Diba West-Northwest
The Diba West-Northwest prospect is located 2km northwest of the Diba Deposit. The prospect is defined by a 650m x 440m east-west striking zone of anomalous termite mound samples up to 37ppb Au. The strike length of Diba West-Northwest is comparable in size to that of the Diba Deposit.
Target 5: Plateau Target
The plateau target is located 2.5km northwest of the Diba Deposit and covers an area of 1.07km2. The target possesses linear flanks indicating the potential for a structural control and is defined by gold in soil anomalies from historic soil sampling grids that occur on the margins of the plateau, indicating the potential for mineralisation being masked by a ferricrete carapace.
The following figures have been prepared and relate to the disclosures in this announcement and are visible in the version of this announcement on the Company's website (www.altus-strategies.com) or in PDF format by following this link: https://altus-strategies.com/site/assets/files/4935/altus_nr_-_diba_drilling_nov_2020.pdf
Location of the Diba project in western Mali is shown in Figure 1.
Location of Diba Deposit and additional targets is shown in Figure 2.
Diba Project: Location
The 81km2 Diba (Korali Sud licence) project is located in the Kayes region of western Mali, approximately 450km northwest of the capital city of Bamako. The Project sits 5km west of the Company's Lakanfla gold project, which is under joint venture with ASX listed Marvel Gold Limited and approximately 13 km south of the multi-million ounce Sadiola gold mine and 35km south of the multi-million ounce Yatela former gold mine. Diba is bounded by the Sadiola permit on its northern and eastern boundaries. Mineralisation hosted on these properties is not necessarily indicative of mineralisation hosted at Diba.
Diba Project: Geology and Mineralisation
Mineralisation at the Diba project is sediment-hosted within a series of stacked lenses, typically between 20m and 40m thick. The lenses are shallow-dipping at approximately 30 degrees angled to the east/east-southeast. The Diba Deposit is considered to be controlled by a number of northwest and northeast orientated structures, with gold occurring as fine-grained disseminations in localised high-grade calcite-quartz veinlets. Alteration at Diba is typically albite-hematite+/-pyrite, although pyrite content is generally very low (<1 %). The weathering profile at the Project is estimated to be up to 70m vertical depth, resulting in extensive oxidation from surface. The oxide gold mineralisation at Diba is predominantly found in saprolite within 50m of surface and across a compact 700m x 700m area.
Diba Mineral Resource Estimate
The Diba project hosts an MRE of 217,000 ounces at 1.39 g/t Au (Indicated) and 187,000 ounces at 1.06 g/t Au (Inferred) in both oxide and fresh domains as set out in Table 1. The MRE was previously reported by the Company on 06 July 2020 (see Altus' news release titled "Significant Gold Resource at Diba Project, Western Mali"). The Diba Deposit remains open downdip and along strike.
Qualified Persons
Julian Aldridge, CGeol (FGS) Principal Geology Consultant, Mining Plus UK Ltd is responsible for the Mineral Resources contained in this press release and is a Qualified Person under the terms of NI 43-101.
Phil Hingston, MIMMM, Technical Manager, Grinding Solutions Ltd is responsible for the metallurgical testwork reported in this press release, and is a Qualified Person under the terms of NI 43-101.
The technical disclosure in this regulatory announcement has been approved by Steven Poulton, Chief Executive of Altus. A graduate of the University of Southampton in Geology (Hons), he also holds a Master's degree from the Camborne School of Mines (Exeter University) in Mining Geology. He is a Fellow of the Institute of Materials, Minerals and Mining and has over 20 years of experience in mineral exploration and is a Qualified Person under the AIM rules and National Instrument 43-101 "Standards of Disclosure of Mineral Projects of the Canadian Securities Administrators".
For further information you are invited to visit the Company's website www.altus-strategies.com or contact:
Altus investor videos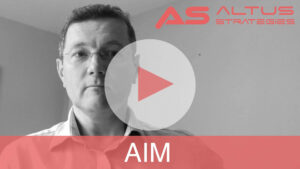 Click here to view LON: ALS videos