AdEPT Technology Group: Half Year Results
AdEPT (AIM: ADT), one of the UK's leading independent providers of managed services for IT, unified communications, connectivity, voice and cloud services, announces its unaudited results for the six months ended 30 September 2020.
Highlights
Revenue and EBITDA
Total revenue decreased by 7.6% to £28.5 million (2019: £30.8 million)
Recurring revenue increased to 78% of total revenue (2019: 75%)
Managed services revenue 82% of total revenue (2019: 82%)
Underlying EBITDA* of £5.2 million (2019: £6.1 million)
Underlying EBITDA* margin 18.4% (2019: 19.8%)
PBT, EPS and Dividends
Adjusted profit after tax** of £3.1 million (2019: £3.9 million)
Adjusted fully diluted EPS 11.4p (2019: 15.3p)
We are not proposing a dividend at this time, given the continued uncertainty posed by the Covid-19 pandemic
Cash Flow and Debt
Reported EBITDA conversion to pre-tax cash from operating activities 152% (2019: 89%)
Customer debt collection period improved to 33 days (2019: 45 days)
Capital expenditure 2% of revenue (2019: 2%)
Net senior debt at period end reduced by £6.7 million to £24.8 million (2019: £31.5 million)
£1.8m of funds used to fund Advanced Computer Systems (UK) Limited deferred consideration
Ian Fishwick, Chairman, commented:
"The AdEPT business has proved incredibly resilient in the period despite the headwinds created by the unique challenge of the Covid-19 pandemic. Our revenue balance between private (55% of total revenue) and public sector customers (45% of total revenue), and our continued laser focus on recurring revenue has underpinned the performance of AdEPT throughout the first half of FY21.
In the public sector our education customers faced unprecedented challenges in 2020 resulting from the Covid-19 pandemic. AdEPT supported over 4,000 schools in their transition to home schooling and remote working, and, AdEPT has helped over 300 schools migrate to the cloud – powered by Google G Suite or Microsoft 365. AdEPT is one of only a handful of suppliers that can provide both Google G Suite and Microsoft 365.
AdEPT Education has also had success building and deploying software that facilitates the placement of over 200,000 children annually with their chosen school, a solution called eAdmissions. A real success story that "is one of the best shared service stories in the public sector" to quote John Jackson, CEO of London Grid for Learning, a key partner in this initiative.
Across the NHS AdEPT has helped hundreds of Doctor's surgeries pivot to virtual surgeries, as they are now providing telephone-based triage of patients. Whilst for hospitals AdEPT has accelerated the flow of information across the NHS by providing new network capacity working with various partners such as Virgin, BT and Convergence Group.
Meanwhile, in the private sector our teams transformed businesses across the UK, facilitating remote access for home workers, migrating companies to the cloud and ensuring they have effective communications across diverse and remote locations. Despite the challenging environment AdEPT has also been able to win new logo business with a range of customers across various sectors including digital media, not-for-profit and private health.
The September 2020 interim results have been adversely impacted by some customers downsizing the services they take from AdEPT and the delay of projects as customers pause and evaluate the impact of the pandemic on their businesses.
The inability to conduct a range of project work on site also had an impact on H1 finances as AdEPT technicians were unable to gain access to customer premises during lockdown to conduct work. As a result, AdEPT has made use of the government Coronavirus Job Retention Scheme (furlough) scheme. Of note, as a conscientious employer AdEPT made good all of the salary shortfalls that our staff may have incurred as a result of the furlough scheme. Given that AdEPT utilised the furlough scheme the Executive Team voluntarily elected not to receive a bonus during this period, and AdEPT has elected not to pay a dividend – policies in line with good corporate governance at this unique time.
As we assist clients in their digital ambitions, AdEPT itself continues its own digital transformation on a journey to place the entire business on a common operating platform, a programme referred to as Project Fusion. Project Fusion continues to make excellent progress with over 60% of the workforce now on the platform. As a result, we are making huge strides against our mission to become One AdEPT.
Going forward we will focus on adding further value by: a) helping customers on a digital journey with AdEPT Consulting, b) providing an easy to consume cloud platform for applications and c) strengthening our successful AdEPT Nebula offering.
I'd like to take this opportunity to thank every one of our 300-person team for their great adaptability and commitment. We have proven to be operationally resilient during these times. For example, as lockdown was announced in March, the AdEPT team dealt with a ten-fold increase in service calls by clients. Yet, at the same time, received numerous customer commendations for their performance.
The second Covid-19 lockdown continues to make forecasting a challenge, however the underlying trends remain, and indeed are brought more into focus – with; digital transformation, a reliance on unified communication, the move to the cloud and a greater dependency on connectivity, all providing strong tailwinds for the AdEPT business as we move into 2021. Indeed our own primary research, conducted in association with Dell, supports this assertion. The research found that 53% of respondents felt IT was very important to their organisation, but only 37% felt their comms infrastructure was well prepared for a crisis in the future, with 92% feeling it is important / very important to improve their data network.
We remain reticent to publish guidance for the full year given the ongoing uncertainty. However, we continue to be encouraged by the key indicators of; new order intake, project delivery, cash collection and operational effectiveness which bode well for the remainder of this year."
* Earnings before interest, tax, depreciation, amortisation and excluding one off acquisition and restructuring costs and share based payments
** Profit after tax adding back one-off acquisition and restructuring costs, amortisation and share based payments, excluding revaluation of deferred consideration
AdEPT Technology Investor Videos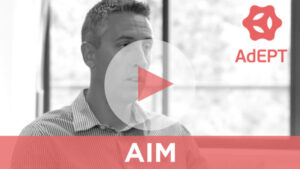 Click here to view LON: ADT Investor Relations Videos