Wheaton Precious Metals: Increases Dividend by 20%
WHEATON PRECIOUS METALS ANNOUNCES A 20% INCREASE IN THE FOURTH QUARTERLY DIVIDEND OF 2020
Vancouver, British Columbia – Wheaton Precious Metals™ Corp. ("Wheaton" or the "Company") is pleased to announce that its Board of Directors has declared its fourth quarterly cash dividend payment for 2020 of US$0.12 per common share, a 20% increase relative to the prior period dividend.
Fourth Quarterly Dividend
The fourth quarterly cash dividend for 2020 of gross US$0.12 will be paid to holders of record of Wheaton Precious Metals common shares as of the close of business on November 25, 2020 and will be distributed on or about December 10, 2020 with an ex-dividend trading date anticipated to be November 23, 2020.
Under the Company's dividend policy, the quarterly dividend per common share is targeted to equal approximately 30% of the average cash generated by operating activities in the previous four quarters divided by the Company's then outstanding common shares, all rounded to the nearest cent. To minimize volatility in quarterly dividends, the Company has set a minimum quarterly dividend of $0.10 per common share for the duration of 2020 representing an 11% increase relative to 2019. Under this policy, the forecast annualized dividend for 2020 would represent an increase of more than 90% over a five-year period.
The declaration, timing, amount and payment of future dividends remain at the discretion of the Board of Directors. This dividend qualifies as an 'eligible dividend' for Canadian income tax purposes.
Dividend Reinvestment Plan
The Company has previously implemented a Dividend Reinvestment Plan ("DRIP"). Participation in the DRIP is optional. For the purposes of this fourth quarterly dividend, the Company has elected to issue common shares under the DRIP through treasury at a 1% discount to the Average Market Price, as defined in the DRIP. However, the Company may, from time to time, in its discretion, change or eliminate the discount applicable to Treasury Acquisitions, as defined in the DRIP, or direct that such common shares be purchased in Market Acquisitions, as defined in the DRIP, at the prevailing market price, any of which would be publicly announced.
The DRIP and enrollment forms, including direct deposit, are available for download on the Company's website at www.wheatonpm.com, accessible by quick links directly from the home page, and can also be found in the 'investors' section, under the 'dividends' tab.
Registered shareholders may also enroll in the DRIP online through the plan agent's self-service web portal at: https://www.canstockta.com/en/InvestorServices/Investor_Information/Issuer_List/IssuerDetail.jsp?companyCode=1501.
Beneficial shareholders should contact their financial intermediary to arrange enrollment, where available. All shareholders considering enrollment in the DRIP should carefully review the terms of the DRIP and consult with their advisors as to the availability of and implications of enrollment in the DRIP.
In the TV Clip below, CEO Randy Smallwood provides more info on the company's mining streaming model
Wheaton Precious Metal's Investor Videos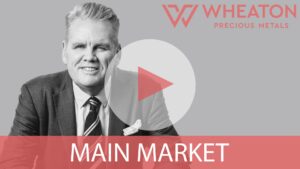 Click here to view Wheaton's Investor Videos