Supermarket Income REIT: Raises £200m
The Board of Supermarket Income REIT plc is pleased to announce that it has successfully raised £200 million in an oversubscribed issue of 192,307,692 New Ordinary Shares at 104 pence per New Ordinary Share.
After careful consideration of the strong level of support and quality of demand from investors in the Initial Issue alongside its confidence in executing on the Pipeline and an increase in further appropriate investment opportunities since the marketing roadshow began, the Board determined to increase the size of the Initial Issue to £200 million. Notwithstanding the increased size of the Initial Issue, investor demand exceeded the gross proceeds raised and as such a scaling back exercise was undertaken.
An application will be made for 192,307,692 of the New Ordinary Shares to be admitted to trading on the Specialist Fund Segment of the London Stock Exchange's Main Market for listed securities ("Admission"). It is expected that Admission will take effect, and dealings in the New Ordinary Shares will commence at 8.00 a.m. (London time) on 9 October 2020.
The New Ordinary Shares will, when issued be credited as fully paid and will rank pari passu with the Existing Ordinary Shares (save for any dividends or other distributions declared, made or paid on the Ordinary Shares by reference to a record date prior to the allotment of the New Ordinary Shares and any relevant Placing Programme Shares).
Immediately following Admission, the Company will have 665,928,154 Ordinary Shares in issue and therefore the total voting rights in the Company will be 665,928,154. This figure may be used by Shareholders as the denominator for the calculations by which they may determine whether or not they are required to notify their interest in, or a change to their interest in, the share capital of the Company under the FCA's Disclosure Guidance and Transparency Rules.
Certain Directors of the Company have participated in the Initial Issue. Details of such subscriptions in the Initial Issue are as follows:
*Nick Hewson's number of shares held after the Initial Issue includes his children's holdings
The Company shortly will also be making a notification and public disclosure of transactions by the Directors and persons discharging managerial responsibilities and persons closely associated with them in accordance with the requirements of the EU Market Abuse Regulation giving more details of the above dealings.
Nick Hewson, Chairman of the Company, said:
"We are delighted by the strong support shown by our existing shareholders and new investors for this capital raise, which enabled us to increase our initial issue size. The funds raised will allow us to execute on our strong pipeline of deals as we continue to deliver on our strategy of providing investors with stable, long-term, inflation-protected income."
VIDEO: Supermarket Income REIT
Supermarket Income REIT Video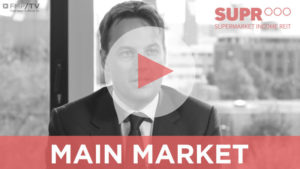 Click here to view Supermarket Income REIT investor relations films