Supermarket Income REIT: Increases issue from £150m to £200m
Since the Company's announcement on 17 September 2020, the Board of Supermarket Income REIT plc has carefully considered the appropriate size of the Initial Issue and decided to increase the target from approximately £150 million to up to £200 million.
The Board has based this on:
a strong level of support from investors;
its confidence in executing on the Pipeline; and
an increase in further appropriate investment opportunities since the marketing roadshow began.
The Initial Issue is being conducted in accordance with the terms and conditions contained in the Prospectus published by the Company on 17 September 2020 following its approval by the Financial Conduct Authority.
The timetable pursuant to the Initial Issue remains unchanged except the latest time for the receipt of commitments under the Placing is now 4.00 p.m., on 6 October 2020. The results of the Initial Issue will be announced on 7 October 2020.
The New Ordinary Shares will be issued and credited as fully paid and will rank pari passu in all respects with the Existing Ordinary Shares (save for any dividends or other distributions declared, made or paid on the Ordinary Shares by reference to a record date prior to the allotment of the New Ordinary Shares and any relevant Placing Programme Shares). The New Ordinary Shares will be issued in registered form and will be capable of being held in both certificated and uncertificated form.
Applications will be made to the London Stock Exchange for the New Ordinary Shares to be admitted to trading on the Specialist Fund Segment. It is expected that Admission will become effective and that dealings for normal settlement in the New Ordinary Shares will commence on the London Stock Exchange by 8.00 a.m. on 9 October 2020.
The Initial Issue is not underwritten. The Placing may be scaled back in order to satisfy valid applications under the Offer for Subscription, and the Offer for Subscription may be scaled back in favour of the Placing. The Initial Issue may be scaled back by the Company for any reason, including where it is necessary to scale back allocations to ensure the Initial Issue proceeds align with the Company's post fundraise acquisitions and leverage targets.
Expected timetable
Latest time and date for receipt of commitments under the Placing: 4.00 p.m. on 6 October 2020
Results of the Issue announced: by close of business on 7 October 2020
Admission and dealings in New Ordinary Shares commence: 8.00 a.m. on 9 October 2020
Dealing codes
Ticker: SUPR
ISIN for the New Ordinary Shares: GB00BF345X11
SEDOL for the New Ordinary Shares: BF345X1
The Company's legal entity identifier: 2138007FOINJKAM7L537
VIDEO: Supermarket Income REIT
Supermarket Income REIT Video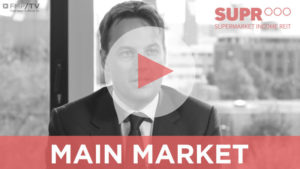 Click here to view Supermarket Income REIT investor relations films